Ambulance delays: Wales' national target missed for 13 months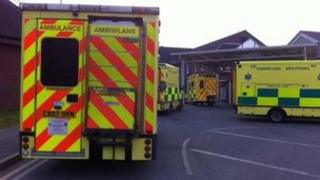 Ambulances in Wales have missed their national target to respond to life-threatening calls within eight minutes for the 13th month in a row.
Figures for June showed 62.6% of ambulances arrived in time - up 0.1% on May, but short of the 65% target.
The Conservatives said the "deplorable" performance was due to Labour ministers' "record-breaking cuts".
Ministers said a recently announced ambulance reform programme would "assist continued improvements".
The number of emergency calls in June were just under 34,000, down 2.8% on the previous month.
Eighty per cent of the most urgent calls received an emergency response within 12 minutes and 94% within 20 minutes.
'Transparent'
Shadow Health Minister Darren Millar said: "Thirteen months of missed targets for life-threatening calls is deplorable.
"It is vital that the minister (Health Minister Mark Drakeford) gets to the heart of the problem - his party's record-breaking budget cuts and the pressure they have heaped on hospitals and frontline staff.
"Downgrading A and E units across Wales will only increase travel times and make the problem worse.
"It's now time for serious change and I will be working with the minister to make sure the changes he announced are effective and implemented as soon as possible."
In a statement the Welsh government said: "We note the slight improvement in national ambulance response time performance in June 2013 when compared with May especially, and the 220% reduction in the number of lost ambulance hours experienced by the ambulance trust in June 2013 when compared with April.
"However, despite the improvement local health boards must continue to work closely with the ambulance service to provide timely access to those patients who require an emergency response.
The health minister announced an ambulance reform programme to assist improvements earlier this month, the statement continued.
"These changes will see local health boards made unambiguously responsible for providing ambulance services tailored to the needs of their residents."