Row over Conservative policy to promote local produce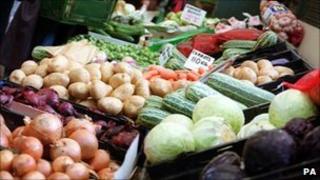 A row has broken out over between Welsh ministers and the Conservatives over a Tory policy to promote Welsh produce.
Conservatives launched the Taste Towns Wales initiative to help communities cooperate to promote local produce and the benefits of eating seasonal food.
Based on the Taste Montgomery scheme, the policy was announced at the Royal Welsh Show in Powys on Wednesday.
But ministers said they were already funding Taste Montgomery as part of a wider programme to boost Welsh food.
The Conservatives said the plan could be a "revolution" for the food industry and urged the Welsh government to join the campaign.
Taste Montgomery has around 30 members and has been able to gain funding by establishing a formal structure.
'Positive impact'
The party said it would promote the local initiatives across Wales, endorsing best practice and offering businesses advice on forming taste towns and how to get funding.
It said they idea had also been inspired by the Scottish government's 'Eat in Season' campaign, which uses a seasonal food calendar and an app in partnership with top chefs.
Shadow Rural Affairs Minister Antoinette Sandbach said: "With the right partnerships and the right collaborative working, local eating can thrive.
"With that can come success for local businesses and a boost to tourism.
"While taste towns will have a positive impact on our economy, this is about healthy eating too."
"Eating locally and eating seasonally can help people understand where their food comes from.
'Embarrassing gaffe'
"It's better value for money, easier to obtain, and contributes to a more sustainable lifestyle," she added.
But the Welsh government accused the Conservatives of achieving "a new level of incompetence".
A government source said it was "unbelievable" the party had issued a press release "calling on the Welsh government to support something we're already funding".
"The Welsh Tories could have saved themselves from this embarrassing gaffe during the week of the Royal Welsh Show, by undertaking some fairly basic research."
The source said the government had been funding Taste Montgomery' since its inception in 2010 "as part of our wider programme to promote Welsh foods which already funds food festivals and regional tourism initiatives across Wales".
'Stop whingeing'
"We have also funded a range of measures to encourage seasonal eating including a seasonal cook book and calendar.
"The added irony is, besides calling for us to introduce initiatives that we've already helped establish, much of what exists in Wales to promote Welsh food, is dependent on the European Agricultural Fund for Rural Development - the same EU funding stream the Tories want to jeopardise by holding a referendum on EU membership."
Responding to the criticism, a Conservative spokesman said the party had been pointing out "good practice" at Taste Montgomery which was not not happening across Wales.
He called on the Welsh government to "stop its whingeing, support our constructive campaign, and roll this out across Wales".