Road casualties: Safer routes to school for children in Wales call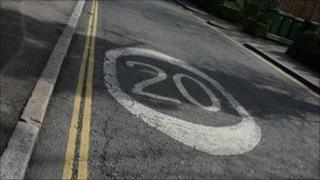 Campaigners are demanding safer routes to school as figures show a third of pedestrian casualties in road accidents in Wales last year were children.
295 child pedestrians died or were injured and the latest Welsh government statistics indicate one in four incidents were on the way to or from school.
It has prompted calls for ministers to ensure safer walking routes to school.
The Welsh government has been asked to respond.
A total of 203 pedestrians were killed or seriously injured last year in Wales, a 79% reduction since 1979 and the lowest figure over the 34 year period.
53 children were killed or seriously injured in 2012, 35% lower than in 2011 and 85% below the 1979 figure.
But Tony Armstrong from the charity Living Streets said although there had been big drop in casualties, there was a danger of complacency.
"The significant reduction in the number of pedestrians killed or seriously injured in Wales is most welcome, but children are still accounting for over a third (34%) of all pedestrian casualties," he said.
"Worryingly, a quarter of those incidents happen on the way to or from school."
Mr Armstrong said future Welsh government legislation requiring local councils to make walking or cycling easier could ensure many more child deaths are avoided.
The Active Travel Bill is currently working its way through the assembly.
"With 35% of children in Wales aged 2-15 overweight or obese, we know the Welsh government is committed to encouraging children to be more active," he said.
"The Active Travel Bill is an opportunity for the Welsh government to prioritise pedestrians, ensuring safe walking routes to and from schools with lower traffic speeds, keeping our children safe today and healthier in the future."
'Healthy habits'
Sustrans Cymru, which promotes sustainable travel, said it was a "tragedy" that "so few" children could enjoy the benefits of daily exercise and the "freedom" of walking to school.
Spokesman Matt Hemsley said: "Kids who walk to school are healthier, more confident and perform better in their lessons but how can we expect parents to encourage a healthy commute when the risks are so high?
"We welcome the government's ambition in the new road safety framework to reach a target of zero fatalities but to achieve this we need slower speed limits and safer routes so our kids can travel to school safely and build healthy habits for a lifetime."
Pedestrian casualties for adults are associated with times when individuals leave work, or leave public houses and night clubs, according to the statistics.