Wales NHS: Over 400,000 patients are waiting for treatment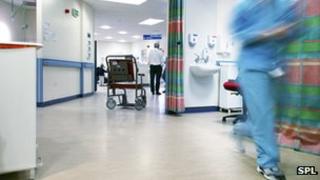 The number of people waiting to start NHS treatment in Wales has risen by more than 10,000 to nearly 407,000.
Statistics Wales figures show 8,900 patients were waiting more than the recommended maximum 36 weeks at the end of May, an increase of 1,300.
Conservatives said the "huge spike" was due to an NHS "scramble" to break even by April, the financial year end.
The Welsh government blamed "high seasonal pressures" early this year but said it expected figures to improve.
34,500 patients were waiting between 26 and 36 weeks for their first appointment, up 3,500 on the figure for April.
Shadow Health Minister Darren Millar AM said: "As health boards fought to balance their books under the cloud of Labour's record-breaking cuts, thousands of appointments were cancelled, leaving patients stranded without the operations they needed.
'National disgrace'
"It's unfair on patients and their families - particularly those in pain, suffering from a poor quality of life, and the vulnerable," he said.
The Liberal Democrats said the statistics were a "national disgrace" and the Welsh NHS was "close to crisis point".
Welsh Lib Dem leader Kirsty Williams said: "The fact is that the Welsh Labour government has catastrophically mismanaged our NHS and it is the people of Wales that are paying the price for Labour's failure."
Plaid Cymru health spokeswoman Elin Jones called the figures "just another symptom of our Welsh NHS system falling apart under poor management right from the top".
"Health is a devolved area and the first minister and the health minister must deal with these problems, not deflect blame elsewhere," she said.
'Recognise performance'
In a statement, the Welsh government said: "Due to the high seasonal pressures experienced over the early months of this year, there continues to be a high number of patients waiting over the maximum waiting time for assessment and treatment.
"Whilst it is our priority to treat these patients, we are striving to bring delivery back into line with national targets and the minister [Health Minister Mark Drakeford] expects to see improvements over the coming months.
"Whilst we recognise performance has worsened this month, the majority of patients continue to be waiting less than 26 weeks.
"The scheduled care plans show the number of patients waiting in excess of 36 weeks improving over the coming months, with the majority of 36 week breaches to be cleared by the end of December."
Ministers said there continued to be "areas of challenge" where health boards were working on "longer term sustainable solutions" and "recovery is currently expected to take longer".
On Tuesday, Mr Drakeford announced Welsh NHS funding levels will be reviewed over the summer to help ensure hospitals avoid a repeat of the Stafford Hospital scandal in England, where hundreds of patients died needlessly between 2005 and 2008 to due neglect and abuse.