East Cardiff link road plan announced by Welsh government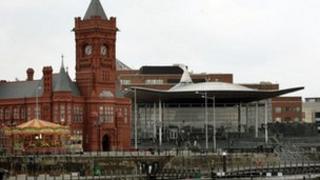 Plans for a new road to improve links between Cardiff Bay and the east of the city have been announced.
The link road would connect Cardiff Bay, home to the Welsh assembly and Wales Millennium Centre, with the A48 at Tremorfa.
The transport minister said upgrading the M4 junction 28 at Tredegar Park and improvements to Five Mile Lane in the Vale of Glamorgan were also priorities.
Conservatives said it was a "wish list" and called for action.
Edwina Hart said the proposals were subject to the necessary approval and funding being found for the schemes.
She said the moves, with bus and rail investments, would be a "solid basis" to strengthen the Welsh economy.
The Eastern Bay Link would run from the Queen's Gate roundabout, at the end of the Butetown tunnels in Cardiff Bay, to the Ocean Way interchange, south of the A48 Eastern Avenue.
Mrs Hart said: "I intend to progress the Eastern Bay Link in Cardiff and an upgrade to junction 28 on the M4.
"These projects are an important element in improving access to the Central Cardiff Enterprise Zone and enhancing connectivity within the city region."
She said completing the remaining stages of the dualling of the A465 Heads of the Valleys Road in south Wales were also priority projects.
An announcement on rail investment is to be made by the end of next week.
But Conservative Shadow Transport Minister Byron Davies said: "Many of these major transport projects were first mooted over a decade ago during the years of plenty but were delayed by Labour dithering - and delivering these developments now will be much more challenging.
"Having an integrated and efficient flowing transport network is critical to attracting inward investment and allowing the private sector to grow and create jobs."
He said he was disappointed at the "absence of a commitment to examine the case for upgrading stretches of the A55 to motorway standard".
The Liberal Democrats said it was a "long overdue development for Cardiff".
"This new road is of major importance to Cardiff, Cardiff Bay, The Cardiff Enterprise Zone and Cardiff Airport in attracting new visitors and business from the east," said Lib Dem AM Eluned Parrott.
Mrs Hart announced last month that public consultation on building an M4 relief road south of Newport was due to begin in September.
But it has not yet been confirmed how the project, costing up to £1bn, would be paid for.