Swansea measles epidemic: Worries over MMR uptake after outbreak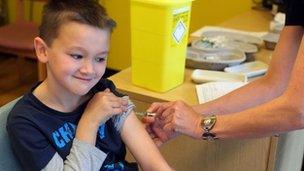 Some parents are still ignoring the message to immunise their children against measles, an inquiry into the Swansea outbreak has heard.
A GP at the centre of the recent epidemic said some people had been invited to get their children vaccinated with the MMR jab 15 times.
Ian Millington gave evidence to the Welsh assembly's health committee.
More than 1,200 people fell ill, 88 visited hospital and one person died in the outbreak which began in November.
The response cost Abertawe Bro Morgannwg University Health Board an estimated £470,000.
The health board offered 35,000 vaccinations, including more than 5,000 for 10 to 18-year-olds - the main age group affected.
Last month the board said 95% of children and teenagers in Swansea, Neath Port Talbot and Bridgend had received one MMR jab for the first time.
So-called herd immunity is reached when 95% have had both doses.
Dr Millington, secretary of Abertawe Bro Morgannwg Local Medical Committee, said that until the outbreak the health service had been "fighting a losing battle" because of the now discredited research linking MMR to autism.
"There was a refusal to have immunisation in the cohort that had not been immunised despite very considerable effort. Having said that we've offered it whenever we can wherever we can," he said.
"Some of the responses we get are really quite difficult. 'Mind your own business.'
"People say 'Every time I come here you ask me about my child's immunisation status. Why don't you mind your own business?'
"That's a very difficult conversation to have. I do think we've tried everything else. Once the outbreak started I think things were different and I think different methods were used and I think they were effective.
"But it is surprising how many people did not listen to the message and it's surprising how many people have still not listened to the message - they don't want to hear it."
A drop in the number of children getting the MMR vaccine in Swansea 10 years ago has been blamed on the coverage of a link between autism and the MMR jab in the local press at the time. The link has since been discredited.
Uptake of the vaccine for two-year-olds in Wales fell from a quarterly peak of 94% in 1995 to 78% by 2003. In Swansea it fell to 67.5%.
It meant the region had a "vulnerable" age group, AMs were told.
Abertawe Bro Morgannwg University Health Board said Wales should capitalise from the boost in immunisations by launching a publicity campaign about MMR, particularly targeted at teenagers.
In evidence to the committee, Betsi Cadwaladr health board, which covers north Wales, said it had faced costs of £90,000.
Aneurin Bevan health board in south east Wales spent £60,000 on its emergency measles plan.
The Welsh government has praised the response to the outbreak, saying Wales had a public health system "capable of leading and co-ordinating an intense and effective effort".
"This enabled services to respond quickly and establish processes to deliver large numbers of vaccinations efficiently and effectively outside routine arrangements," it said.
However, the Welsh Conservatives said a full public inquiry was needed to learn the lessons of the outbreak.
In its evidence, the British Medical Association (BMA) said: "A lack of experience in identifying the disease, both in the population and amongst medical and nursing staff, also meant that these initial cases might not have been diagnosed swiftly."
Consideration was given to quarantining susceptible people, but it was judged that there was unlikely to be political or public support for the move, the BMA said.
When the outbreak reached "the explosive growth stage", the NHS "leapt to respond", it added.
Related Internet Links
The BBC is not responsible for the content of external sites.