Local education authorities: First minister backs cut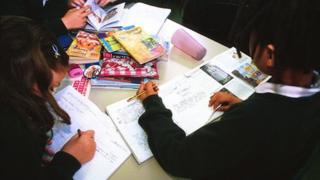 A drastic cut to the number of Welsh local education authorities would be supported by First Minister Carwyn Jones.
He told The Wales Report on BBC TV that the current 22 authorities - one per council - was too many.
A recent review recommended a reduction by at least a third to boost standards.
"It's difficult to put an absolute figure but we're probably talking about the early teens I suspect in terms of numbers," he said.
Robert Hill, a former policy adviser to ex-Prime Minister Tony Blair, looked at the future of education in Wales and suggested a cut in the number of local education authorities (LEAs).
He said "new slim-line" council bodies could run schools better and found a reluctance among councils to consider merging services or having joint education directors.
Mr Jones said he was not fixed on the exact number of LEAs Wales should have but the cut by at least a third was "about right".
He added: "I'm not wedded to the idea, but that's the sort of idea that people have suggested. That may be too few but I have an open mind on these things."
The Hill Review was commissioned by former education minister Leighton Andrews after a series of damning inspection reports by Estyn since 2010.
Six Welsh LEAs, with more than 59,000 pupils combined, have been placed in special measures.
The resignation of Mr Andrews last month prompted concerns that reform of Wales' education system could be jeopardised by the change in leadership.
He stepped down after defending Pentre Primary School in his Rhondda constituency against closure.
'These things happen'
The former minister was accused by opposition politicians of undermining his own surplus places policy.
Mr Jones told the programme that if Mr Andrews hadn't resigned, his position would have been untenable, but he said he would not have sacked him.
"It would have been very difficult for him to continue given the circumstances that we found," he said.
"But he did resign. I accepted his resignation, these things happen from time to time.
"Leighton's a great campaigner and he will certainly be very valued in the party in the future," he added.
Asked about similar campaigns by Welsh Labour politicians against his government's proposals, in particular the views of Shadow Welsh Secretary Owen Smith MP on changes to the health service in Wales, Mr Jones insisted that the party had "no stance in terms of reconfiguration".
He said: "Owen is the MP for Pontypridd, it's open of course to elected representatives to make representations on behalf of hospitals in their own area, I've got no difficulty with that.
"But of course it's important to emphasise that no political party is backing any particular outcome. "