Torfaen schools: Council hands over education improvements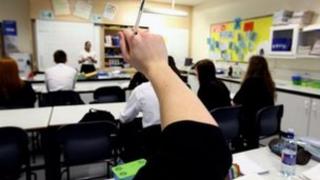 Councillors in a south Wales county whose education authority is in special measures are to hand over control of improvements to a local board.
Torfaen's education service has been in special measures since education watchdog Estyn judged it was not doing enough to improve standards in March.
The Education Achievement Service will now be responsible for improvements.
Torfaen will also "delete" the chief education officer post.
The current holder Mark Provis will be made redundant.
The EAS is made up of education specialists from five local authorities in south east Wales: Blaenau Gwent, Caerphilly, Monmouthshire, Newport and Torfaen.
The service is designed to raise education standards by challenging and supporting schools.
At a meeting of Torfaen council, 42 councillors voted in favour of transferring control to the EAS, with two abstaining.
The local authority's executive member for children and young people Brian Mawby said: "As a previous board member of the EAS, I have already witnessed first hand the impact pooling resources can have on school improvement.
"For that reason, I am confident the EAS will deliver the added value from sharing expertise and resources, which will ultimately improve our children's educational attainment and their opportunity to compete in the national and global workplace.
"It is also reassuring for Torfaen councillors that the EAS model has been recognised by Estyn as the most advanced collaborative education model in Wales to drive improvement."
'Slimline authorities'
Five other local education authorities in Wales are also in special measures.
Last week a report by Robert Hill, who was an adviser to former Prime Minister Tony Blair, suggested the 22 education services running schools in Wales should be cut by a third.
The review said education could be be run by regional consortia with council leaders among their board members from next April.
Mr Hill said "new slimline elected local authorities" could run education in the longer term.