Runners and riders to replace Leighton Andrews at education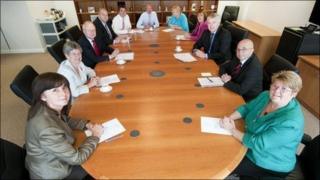 Since there is no obvious successor to Leighton Andrews, there is no particular name for gossip in Cardiff Bay to focus on today.
Given the relatively small size of the assembly, with just 60 assembly members and 30 of them Labour, the first minister doesn't have a huge field to chose from to join his nine-strong top team.
One option for Carwyn Jones would be to move Economy Minister Edwina Hart to education, or perhaps the minister for tackling poverty, Huw Lewis.
Mrs Hart in particular has a reputation for a no nonsense style in public but also as an effective fixer behind the scenes.
She is also, however, thoroughly enjoying her current role and might not be keen to leave it.
The Hart or Lewis options would prompt a wider cabinet reshuffle, as would moving the Minister for Natural Resources and Food, Alun Davies.
As a Welsh-speaker he would be a easy like-for-like fit, as the education brief currently also has responsibility for the Welsh language.
Mr Davies has had a somewhat abrasive relationship with the farming community - teaching unions be warned - but is mainly seen as performing well in his current position.
Finance Minister Jane Hutt would be a safety first option, but her time as health minister is not generally regarded as an outstanding success, albeit in extremely difficult circumstances as is so often the case with the NHS. She is also comes with previous experience as holder of the education portfolio.
Ditto in terms of health - Lesley Griffiths, at local government, who is close to the first minister personally.
A radical option would be to promote the Cardiff South Penarth AM Vaughan Gething to the cabinet.
He is wearing a particularly smart suit in Cardiff Bay today, and he's not one who could ever be described as a slouch, but he's told my colleagues he would be in committee all day today.
I'm sure he'd take a call if one came.
Clwyd South AM Ken Skates is another potential for promotion to the cabinet table, but perhaps putting him or Mr Gething into deputy positions at this stage is more likely.
'Large shoes'
Another approach would be to make a holding appointment, to get through the summer recess - for example merging Culture Minister John Griffiths's portfolio with education for the next few months - or promoting deputy minister for skills Jeff Cuthbert on a temporary basis.
This would allow Carwyn Jones to mull over his options until the autumn.
Making such predictions can be a bit of a mug's game - and a name may emerge which I haven't mentioned above.
These are big boots to fill and we should know who will be stepping into Mr Andrews' large shoes over the next few hours.