Child smacking: Dispute over opportunity for Wales ban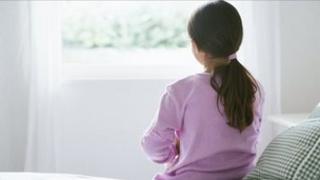 Wales has a golden opportunity to ban smacking children despite the threat of legal challenges says a Plaid Cymru AM.
Child protection campaigners want it included in a bill going through the assembly.
But the Welsh government has ruled out a ban before the 2016 election, saying it has no mandate to introduce one.
A Conservative MP says the assembly lacks the powers to ban smacking because it would involve changing criminal law, which is not devolved.
Supporters of a ban on smacking disagree, saying the law-making referendum in 2011 gave the assembly the powers needed to change the law.
There have been repeated calls for a ban. The latest comes as the Welsh government's Social Services and Well-being Bill makes its way through the assembly.
Some AMs want to amend the bill to remove the defence of chastisement for assaulting a child.
However, there are fears that an amendment banning smacking would delay the entire bill, which ministers say is designed to reform the social care system.
Plaid AM Lindsay Whittle is planning to table an amendment when the bill comes back to the Senedd chamber, expected to happen in the autumn.
He told BBC Wales' Sunday Politics: "I fear we are no further forward now than we were in 2002 when this issue was first raised at the National Assembly for Wales.
"I will bring that amendment through. Whether it succeeds into the committee stage or not I do not know. But I am reliably informed that it is my right to bring it to the full chamber anyway and I will do so. This is a golden opportunity."
'Frustration'
Lynne Hill, policy director at the charity Children in Wales, said political parties would face demands to ban smacking at the next election in 2016.
"One of our main frustrations is the sense that for so long the Welsh government were very clear that if they had powers to make those decisions in Wales and didn't need to go through Westminster legislation they would do it," she said.
Conservative MP Glyn Davies said questions about whether the assembly has the power, or law-making competence, to ban the smacking of children were a "borderline issue".
"My view is that criminal justice is not devolved," he said.
"I don't think this issue is devolved to the assembly, but if there is a disagreement between the National Assembly for Wales' will and the view here - which I hope would be that there's no competence - then clearly it would have to be referred to the Supreme Court."
A Welsh government spokesman said: "The Welsh government has no plans to put forward legislation on smacking during the current assembly term and has no mandate to do so.
"We will continue to promote positive parenting and disciplinary alternatives to physical punishment."