Extra investment bringing 'real results' says Jane Hutt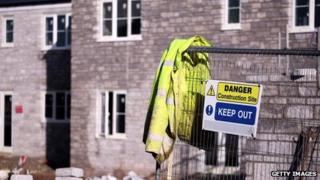 An extra £1.3bn has been spent on building affordable homes, new health facilities and schools in the past year, the Welsh government has said.
Ministers said the Wales Infrastructure Investment Plan (WIIP) annual report demonstrated "real results" despite cuts in funding from the UK government.
Finance Minister Jane Hutt said the investment would "boost growth".
Conservatives said the report was "full of aspiration" but lacked "meaningful and measurable targets".
Ms Hutt said: "Despite cuts to our capital budgets imposed by the UK government, we have continued to focus on our priorities."
She said the extra £1.3bn infrastructure investment had included finance switched from savings "through careful management".
Ms Hutt said it had enabled ministers to extend the Local Government Borrowing Initiative to the 21st Century Schools programme and complete the creation of a dual carriageway along the A465 heads of the Valleys road.
"The additional investment we have made from capital reserves, totalling almost £462m, in the short term has the potential to create around 8,000 jobs during construction phases," said the finance minister.
"In the longer term, this will boost growth and support the delivery of more efficient public services."
'Whinge'
Conservative business spokesman Nick Ramsay AM said: "Like many Welsh government reports, this is full of aspiration but short on delivery and lacks meaningful and measurable targets.
"It is odd that Welsh Labour ministers continue to whinge about reductions in capital spending from the UK Government, yet managed to find a spare £52m to buy Cardiff Airport."
Mr Ramsay said it was time for the Welsh government to "start co-operating with UK ministers to invest and nurture the conditions for economic growth to accelerate private sector job creation".