Health boards to get more time to balance budgets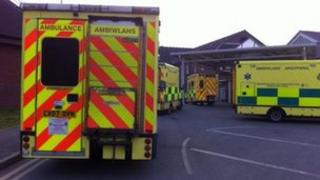 Health boards running Welsh hospitals and struggling to cut deficits are set to be given three years instead of just one year to balance their books.
The Welsh health minister wants to give them more flexibility.
Mark Drakeford said the plans would allow "prudent long term decisions to be made".
Health boards have regularly struggled to balance budgets by the end of each financial year, despite extra funding from ministers to cut their deficits.
Hospital consultants warned that A&E departments were at the point of meltdown due to pressure to meet financial targets by the end of March.
'Increasingly difficult'
On Monday Mr Drakeford said a bill would be introduced to make the change to the financial rules, so health boards will have to balance their budgets over a three year cycle rather than just one.
If it is passed in the assembly the new regulations would apply from next April.
But he stressed there was to be no reduction in the rigour with which health boards were expected the manage their money.
"Pressures including changing demographics such as a growing elderly population, lifestyle factors such as obesity, and unforeseen cost pressures such as funding the availability of new drugs mean that balancing the books over a one year period has become increasingly difficult," he said.
"Allowing the NHS greater financial flexibility to manage their responsibilities over a number of financial years, rather than each and every year, will allow the NHS the scope to make prudent long-term decisions.
'Balance the books'
"A significant downside of the current financial regime is that it may encourage short term decision making around the current year."
Mr Drakeford said the change would help the NHS focus its planning, workforce and financial decisions "over a longer and more sustained period".
Key assembly committees have also called for such a change.
Conservative health spokesman Darren Millar AM said the decision was "long overdue and extremely welcome" and would "put an end to the yearly race to balance the books".
He added: "This bill will hopefully put an end to the escalated financial pressures that the NHS experiences between January and March each year.
"As it stood, NHS financing had become completely unsustainable. Bailout followed bailout and - if breaking even was achieved - it was only at the very last minute."