Edwina Hart leads Welsh government trade mission to Japan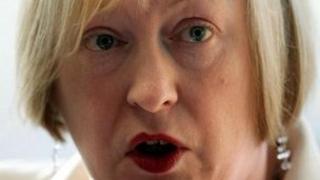 Wales' Economy Minister Edwina Hart is leading a trade mission to Japan in an attempt to boost investment in Wales and promote Welsh businesses.
Last year Welsh companies exported £274m to Japan, making it Wales' 10th biggest export market.
The Welsh government says there are 50 Japanese-owned companies in Wales, employing more than 6,000 people.
Hi-tech and traditional arts and crafts businesses have travelled with her on her trip which lasts until 16 June.
Mrs Hart has meetings lined up with executives from businesses such as Sony and Toyota which both have a presence in Wales.
Her visit coincides with the 40th anniversary of Sony opening its first plant in Europe in Wales.
She will also meet Hitachi which has taken over the project to build a new power station on Anglesey.
Mrs Hart said: "We have a diverse range of businesses participating in our latest mission ranging from highly sophisticated advanced manufacturing companies to business specialising in hand crafted rare Welsh gold jewellery, Welsh food products and unique woollen fabrics.
"It highlights the breadth of Welsh expertise across the sectors - from traditional crafts to cutting edge technology."
'Excellent relationships'
She added: "Our international trade programme forms a key part of our drive to stimulate business growth and these missions are an important component of the overall package of support we offer companies."
Speaking on BBC Radio Wales, Mrs Hart said Japanese companies had experienced difficult times but it was important to keep faith with firms that developed and were innovative, such as Sony.
She said the Welsh government was also developing links with expanding economies in countries such as India and Russia.
"The first minister [Carwyn Jones] has also been to India, because we have excellent relationships in India," said Mrs Hart.
"I will actually be going to Russia later this month, so we are looking at where we can actually sell ourselves as a nation.
"We have got to get the balance right.
"Everybody says to me support indigenous Welsh companies. We give tremendous support to all our funding schemes but we have got to recognise that there's a whole world out there and we want to ensure, as we're part of the European Union, as many European bases are in Wales."