Welsh council chiefs' pay: Parties agree deal on panel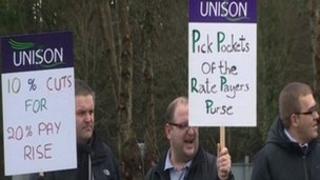 A deal has been agreed on tackling senior council officials' pay between Welsh ministers and opposition parties.
Plaid Cymru said council chief executives' pay will now be referred to an independent remuneration panel.
Opposition parties had threatened to block legislation to reform local democracy without the agreement.
Welsh ministers confirmed a "compromise agreement" had been reached but local councils have warned that imposed pay limits could end up in the courts.
In a brief statement a Welsh government spokesperson said: "A compromise agreement has been reached on an amendment on the issue of local government senior officer pay. The amendment will be tabled tomorrow."
As it has only half the seats in the assembly chamber, the Labour-led Welsh government needs the support of its opponents to get legislation passed.
In Caerphilly, the way the council's chief executive was given a pay rise was declared unlawful by a spending watchdog in March.
Plaid local government spokesman Rhodri Glyn Thomas said: "The fact that some senior officials have been able to award themselves eye-watering pay rises, while low-paid council workers are denied a living wage was wrong, and the Welsh government has done the right thing in tackling this issue.
"Up until the beginning of this week the minister [Lesley Griffiths] denied that spiralling public sector pay is a problem, but I'm glad that she has now acknowledged the problem and has responded to public concern."
Mr Thomas admitted that the new panel would not "end the competitive market in top salaries" but argued it would "bring in a new layer of accountability".
He warned that if senior council pay "continues to spiral out of control, we will bring forward new proposals in the future, and would want much fuller consultation with local government".
Liberal Democrat spokesman Peter Black said the deal showed that "when all three opposition parties work together, we can force the Welsh Labour government to improve legislation for the better of Wales".
Legal challenge fear
"Curbing excessive pay was a priority for us and we are glad that the Welsh Labour government has listened to us," he said.
But leading local government figures fear legislation prepared in haste, in response to recent debate about chief executives' pay, could plunge councils into expensive and time-consuming legal challenges and industrial tribunals.
A Welsh Local Government Association (WLGA) spokesperson said: "Senior managers in local government are subject to national terms and conditions set across England and Wales by two joint negotiating committees covering 407 chief executives and 7,187 senior managers.
"All these officers have been subject to a five-year pay freeze and are legally governed by a pay setting framework determined locally by democratically elected councillors.
"Any attempt to change this framework could lead to equal pay issues, employment tribunals and can be expected to have many legal ramifications."
The spokesperson also questioned why local government in particular was being singled out on the pay issue.
"While we have seen arguments in recent days about local government chief executives earning more than the prime minister and first minister, this applies equally to senior civil servants in Welsh government, university vice chancellors, chief executives of assembly sponsored public bodies, chief constables, nearly 135 BBC senior staff and over 6500 NHS employees across the UK who earn more than £142k, which is the current 'basic' salary of David Cameron."