Carwyn Jones in A&E closure claims row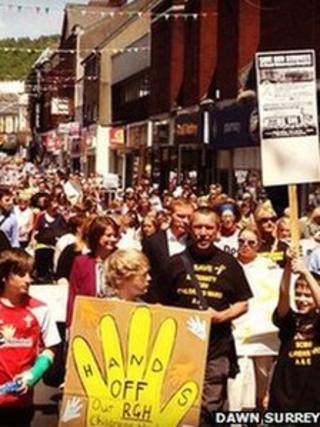 The first minister is at the centre of a row over whether senior members of his own party are claiming an A&E department could close in an NHS shake-up.
Carwyn Jones claims Plaid Cymru misled the assembly by saying A&E at the Royal Glamorgan Hospital could close.
He said it was untrue to suggest A&E would be lost.
But the Conservatives argued Labour figures had also used terms like "disappearing" and "closing".
Mr Jones was also challenged to condemn what were called "shroud-waving" comments by Labour AMs and MPs.
Major NHS changes proposed for south Wales could see the Royal Glamorgan in Llantrisant stop treating the most serious A&E cases.
The shake-up could see specialist departments in seven hospitals being cut to four or five.
Health officials have said better and safer round-the-clock specialist services can be delivered in fewer places - suggesting Cardiff, Swansea, Merthyr, Bridgend and a new hospital near Cwmbran.
Responding to Plaid Cymru leader Leanne Wood's comments during first minister's questions Mr Jones said: "She has said something that is untrue, misleading and wrong.
"She said that A&E services would be lost. That is untrue."
The day after the proposals were announced, four senior Labour figures including Education Minister Leighton Andrews and Shadow Welsh Owen Smith staged a photocall outside the hospital with placards reading "Labour says keep A&E at Royal Glam"
The politicians represent the Rhondda and Pontypridd constituencies, which would be among the most affected by the proposed changes.
Mr Andrews responded to the proposals after the announcement by saying: "Safer and more reliable services have to be the priority but if accident and emergency services disappeared from the Royal Glamorgan hospital then most Rhondda people would have to travel to Cardiff, which would overburden services there."
Labour Rhondda MP Chris Bryant said about the consultation: "I hope that the health board will see sense and realise that closing an accident and emergency unit at a hospital that is only 13 years old and accessible to both the communities in the Rhondda and Pontypridd is not the best use of NHS resources."
'Shroud waving'
During the assembly question session on Tuesday, Conservative health spokesman Darren Millar said to Mr Jones: "You have just accused Leanne Wood of misleading the assembly in respect of emergency services.
"Do you agree that your Labour colleagues, including a member of your own cabinet are also misleading the assembly, if you use the same yardstick?
"Because in a press release, Leighton Andrews says A&E services are 'disappearing' from the Royal Glamorgan Hospital, and Chris Bryant has described the A&E department there as 'closing'.
"Do you condemn their shroud-waving in the same way that you have condemned shroud-waving before in this assembly when people scaremonger about the future of services in local hospitals?"
Mr Jones responded: "Chris Bryant is not a government minister, last time I looked. What is being suggested by the party opposite (Plaid Cymru) is that A&E services will completely disappear.
"That has never been suggested by anyone in this chamber, by any Labour minister, only by members of Plaid Cymru."
Mr Jones went on to accuse the Conservatives of inflating claims of cuts to the NHS budget in Wales.