MEP Jill Evans tops list of Plaid Cymru's EU candidates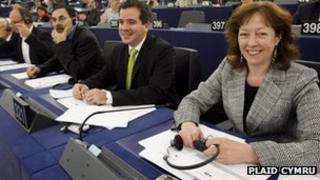 The Plaid Cymru Euro MP Jill Evans has retained her party's top slot in its list of candidates to fight the 2014 Euro elections.
The 54-year-old has held a Welsh seat in the European parliament since 1999.
The Rhondda politician topped Plaid's internal poll ahead of candidates Marc Jones, Stephen Cornelius, Ioan Bellin and Gwynfor Owen.
With just four Welsh EU seats, first place on a party list is vital to any chance of election success.
At present, Wales is represented in the European parliament by one Conservative MEP, Kay Swinburne, one Labour MEP, Derek Vaughan, Plaid's Jill Evans, and the UKIP MEP John Bufton - who announced earlier this month that he will not be seeking re-election.
"The European Parliament is not perfect and it does need reform," said Ms Evans, after her success in her party's poll.
"However it must always be remembered that it gives more back to Wales in funding than it receives from us.
"Until our economic performance is raised significantly and some parts of the valleys cease to be among the poorest parts of Europe, this will continue to be the case.
"If the people of Wales vote for Plaid Cymru next year we will ensure Wales gets a good deal from Europe."