UKIP MEP for Wales John Bufton to stand down at election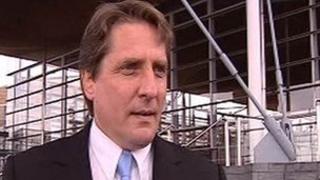 The UK Independence Party's only Welsh MEP says he will stand down next year for personal reasons.
John Bufton said he would make way for a new candidate at European elections in 2014.
He was elected as one of Wales' four MEPs and the first Welsh MEP from his party at the last elections in 2009.
Mr Bufton said he was making the announcement at an exciting time for UKIP which made gains at local elections in England this month.
The party failed to get anyone elected in elections for Anglesey council on 2 May, despite fielding candidates in every ward. However UKIP's 7% share of the vote was bigger than the Tories' 6%.
Mr Bufton came fourth at the 2009 European election with 12.8% of the vote in Wales.
He said: "I was thrilled to be elected as UKIP's first MEP for Wales back in 2009 and since then I have given my all to fulfil the role to the very best of my ability.
"It has been a great honour to represent the Welsh people at the European Parliament and the past four years have been thoroughly enjoyable as well as challenging."
He added: "Nominations are currently open for prospective UKIP candidates in Wales for next year's European elections and, after much consideration, I now feel the time has come for me to step aside to allow new candidates the opportunity to take up the mantle.
"This is a very exciting time for UKIP and I look forward to seeing the party continue to grow and prosper."