End of the three-country consensus on exam standards?
UPDATE
A round of opposition party responses:
Welsh Conservative leader Andrew RT Davies takes a straightforward view of Mr Gove's letter and the response to it. He has no problem with divergence, with a split, if that's the natural consequence of devolution. His problem is with what he called Labour's "abject failure" in Wales to deliver policies that improve education.
Plaid Cymru's Rhodri Glyn Thomas argues the split could, in fact, raise standards in Wales but a warning from Kirsty Williams and the Liberal Democrats. Last Summer's row over qualifications and Leighton Andrews's part in it, she says, "has put a question mark over the currency of Welsh qualifications - that's what I hear out there amongst my constituents, some of whom have a choice in Powys where to send their children to school. Parents and employers must have confidence in Welsh qualifications".
Mr Andrews would do better to stop warring on Twitter - "unbecoming" she says - "turn the other cheek, and get on with the job".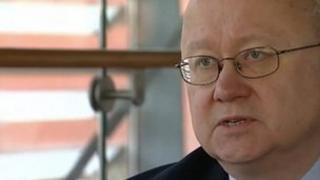 What's Michael Gove's letter to the Education Ministers of Wales and Northern Ireland all about?
In a sense, you could argue it's about - well, stating the obvious. As differences grow between the exam system and qualifications offered in Wales, Northern Ireland and England, then the argument grows too that you might as well say so out loud - acknowledge that change means things diverge, or as Mr Gove puts it in his letter, it is "a natural and legitimate consequence of devolution". It is time to go our separate ways.
So far, so impeccably logical.
But what about the politics? Ah, now that's where things get less logical, than interesting.
Cast your mind back to Michael Gove's ill-fated "O-level" reforms - the new 'gold standard' Baccalaureate qualification for England only that in the end, ran into some serious difficulties. Mr Gove was accused of executing an embarrassing U-turn. #EBacctrack tweeted Labour. No, just "a tweak" said Mr Gove's office.
In Wales, in the meantime, the Welsh Government's review of qualifications recommended Wales keep GCSEs, again with some tweaks. Mr Andrews sat back and watched the gold standard in England - that unions and parents had feared would leave Welsh pupils second best - unravel.
But cast your mind back too to the ill-tempered spat between the two men over qualifications and how they should be regulated.
Up until last summer, a system of "three country consensus" existed whereby regulators from England, Wales and Northern Ireland met to agree common standards across all three. What did that mean? Well, roughly speaking, that a 60 in English Language would be a C wherever you sat it. Individual papers from individual exam boards are closely moderated to ensure common standards between them.
Come back to Mr Gove's letter and you'll see he says that he now believes that this "three country consensus" model is effectively dead, as a result of the diverging system. If the exams and structures are going to be so different, he reasons, then it's pointless to try and get some sort of consensus between them on standards.
It's pretty important to remember that it was Leighton Andrews, acting as Welsh exams regulator, whose actions put the first breach in the three country consensus model - last summer, following a review by his regulatory officials, he ordered the re-grading of WJEC English exams papers which meant for the first time, a C in Wales was different from a C in England - thousands of pupils in Wales got better results due to this. A legal challenge by unions in England failed.
Mr Andrews and those around him would argue that there were deeper changes going on under the bonnet of the standard-setting process last year that merited his intervention - but Mr Gove was furious. His response now seems to be - ok - if you want to override the consensus when it suits you, we won't bother having a consensus. Incidentally, asked by the Education Select Committee about the future of the consensus arrangements earlier this year, Mr Andrews declared the "jury was out" on it. Hardly a ringing endorsement from the Cardiff end either, to be fair.
But without any consensus on common standards in the future, the slight divergence in standards for one grade threshold for one exam becomes - potentially - a yawning chasm across all grades and subject areas where there could be literally no way of telling whether a pupil has achieved a given standard in comparison with a counterpart in England - or vice versa.
The letter comes in the wake of a meeting between the three education Ministers in London last week which was officially described as "frank but cordial". Judging by where we are a week or so later, it was a lot more of the former than the latter.
And the politics of this are laid bare by the Whitehall source in the Guardian story which attacks the Welsh "dumbing down" of exams. It's in the Department for Education's interest to have a political narrative portraying the English system as far more rigorous than the Welsh one - ending the current consensus arrangements would be (for them) a palpable demonstration of this.
Since the 2010 General Election Carwyn Jones and his ministers have sought to burnish their political credentials by contrasting their policies with those of Westminster - on austerity, on NHS reform, on Europe.
But these days, barely a Prime Minister's Questions goes by without some disparaging reference by David Cameron to Labour's record on health in Wales. It's not just different is his message. It's worse.
And it's spreading. Communities Secretary Eric Pickles has also weighed in with some trenchant criticisms of the Welsh Government's performance in housing.
As the bare-knuckle fight between the Tories and Labour in 2015 approaches, Michael Gove's letter opens up another front on Welsh Labour's record on education. The danger is that pupils on both sides of the border end up the casualties in a new grading free-for-all.