Assembly election reform plans outlined in Queen's Speech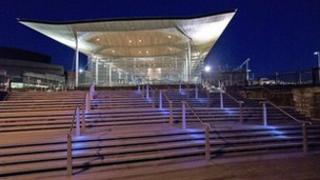 Plans for a draft law to change the way Welsh assembly members are elected have been set out by the Queen at the State Opening of Parliament.
The future legislation would end the ban on assembly election candidates standing in both a constituency and on a regional list.
So-called dual candidacy has been banned since 2007.
The UK government's legislative plans for the next year were outlined by the Queen in a speech written by ministers.
The ban was introduced by former Labour Welsh Secretary Peter Hain to stop candidates rejected by voters in constituency polls from being elected to the assembly by also standing for list seats.
The plans would also move the assembly from four to five year terms and prevent AMs from sitting as MPs at the same time.
Welsh Secretary David Jones said: "Following the green paper consultation last year, a draft Wales bill will move the National Assembly for Wales from four to five year fixed terms, making it less likely that assembly elections will coincide with parliamentary elections in future.
"The bill will also give greater choice to candidates by restoring their right to stand on both a constituency and regional lists during assembly elections.
"Plus the bill will ensure assembly members cannot be MPs at the same time," Mr Jones added.
'Ukraine'
The proposals were welcomed by the Electoral Reform Society.
Steve Brooks, its director in Wales, said: "The ban on dual candidacy should never have been introduced.
"Wales is thought to be the only nation in the world other than the Ukraine to impose such a restriction."
But Shadow Welsh Secretary Owen Smith described the draft plans as "a 'lucky losers bill' which helps candidates from minor parties get into the national assembly via the back door".
He added: "It means that in future we could face a similar situation to that of Clwyd West in 2003 when all four candidates were elected to the assembly, despite three of them being defeated in that constituency.
"This bill is entirely self-serving, designed only to increase the Conservatives' meagre chances of winning seats in the next assembly elections."
First Minister Carwyn Jones insisted assembly election rules should be decided in Cardiff Bay, not Westminster.
"With regards to electoral arrangements, we believe these should be dealt with in Wales by assembly members," he said in a statement.
But a Welsh government spokesman said the first minister "welcomes the indication he has been given today that the draft Wales Bill could be a potential vehicle for implementing the recommendations from Silk part one".
The Silk Commission, considering further devolution, has said there is a strong case for giving limited tax and borrowing powers to Wales.