NHS in Wales dominates PMQs at Westminster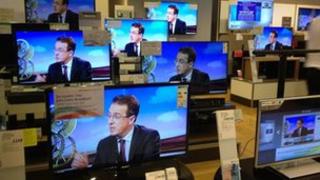 The NHS in Wales may be the responsibility of the Welsh government in Cardiff but it remains a political football at Westminster.
David Cameron's default response to criticism of the NHS in England is to criticise Labour's record on health in Wales. The issue dominated prime minister's questions today after Ed Miliband chose to highlight problems in English accident and emergency services.
David Cameron told MPs: "There is one part of the country where Labour have been in charge of the NHS for the last three years that is Wales where they haven't hit an A and E target since 2009 - perhaps he'd [Miliband] apologise for that.
"Labour's official policy is to cut spending on the NHS just like they're cutting spending on the NHS in Wales, where waiting times are up, , waiting lists are up and quality is down too. That is what is happening in the NHS under Labour."
He added: "Let us examine the NHS in Labour's hands in Wales. Here are the figures. The NHS budget: is it being increased? No, it's being cut. By 8 per cent by Labour.
"Last time the urgent cancer care treatment was met in Wales, anyone? 2008. Last time A and E targets were met? 2009. The Welsh ambulance service has missed its call-out target for the last 10 months and of course there is no cancer drugs fund.
"That is what you get under Labour. Cuts to our NHS, longer waiting lists and all the problems we saw at the Stafford Hospital would be repeated all over again."
Shadow Welsh Secretary Owen Smith gave Labour's response in a Westminster TV studio (as seen in a Cardiff department store). He said the prime minister was wrong. "The Welsh government deploys the money that it is given by the parliament here in Westminster.
"The prime minister has cut the budget of the Welsh National Assembly by £2bn over the spending period. So if there have been tough decisions made within Wales it is because the overall envelope has been cut
"Within Wales, the gove
rnment took a decision to, within their spending envelope, to increase spending on education and cut by one per cent spending on health because we felt in Wales that having tripled spending on health over the period of the Labour government our priority ought to be on education where we need to make significant improvements in the schools in Wales."
Mr Smith said that on other measures such as infection rates Welsh hospitals were doing extremely well. But sitting alongside the Pontypridd MP was Mark Harper, the immigration minister whose Forest of Dean constituency neighbours Wales.
Mr Harper said he had a number of constituents registered with GPs in Wales who were told they had to use the Welsh NHS. "Almost universally they don't particularly want to because they think the service is worse, they have to wait for longer, their experience has been worse."
Devolved or not, there's a taste of some of the arguments we're likely to hear at the Welsh Conservative conference in Swansea this weekend.