Bigger role for families in deemed consent organ law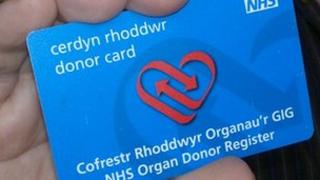 Proposals to change the law on organ donation in Wales have been amended to give families a bigger role.
Welsh government plans for an opt-out system would mean everyone is deemed to have consented to being a donor when they die, unless they state otherwise.
Health Minister Mark Drakeford announced changes that will give families a "clear right of objection".
But the wishes of donors were "paramount," Mr Drakeford said.
He added that organs will not be taken unless a family member is present.
The Welsh assembly's health committee had called on ministers to clarify the role of the family.
The committee said evidence by former Health Minister Lesley Griffiths was "inconsistent" and called for a "definitive" statement about whether family members should have a veto
Under the Human Transplantation Bill, people would still be able to join the organ donation register or opt out if they do not want to be donors.
However, it will be presumed that anyone who does neither will have consented to their organs being taken and made available for transplants.
Mr Drakeford, appointed in a Welsh government cabinet reshuffle last month, said he had taken on board AMs' recommendations to "strengthen" the bill.
In a statement to the Senedd chamber, Mr Drakeford said: "Deemed consent donation will not go ahead in the absence of any family member.
"In deemed consent cases, the presence of the family is essential - both as a source of necessary information about the potential donor and in order to ensure that donation does not go ahead in the face of the deceased's known objection to organ donation.
"That position will now be reflected on the face of the bill."
An amendment to the bill will "provide a clear right of objection for family members, where they can confirm that a potential donor would not have wished donation to take place", Mr Drakeford said.
However, Mr Drakeford said a families' grounds for objection "have to be based on the known views of the donor" and that the "donor's views are paramount and have to be respected".
People will also be able to appoint a representative to confirm their wishes if they die.
Mr Drakeford said: "If anyone is anxious that the family may not faithfully represent their views they can appoint someone who they know they will have confidence in to do exactly that."
In other changes, people who do not voluntarily live in Wales - such as prisoners - will not be included.
Mr Drakeford said there would be an "extensive and innovative" publicity campaign, lasting two years.
The Welsh government's effort to inform people about changes to the law would make the bill compliant with human rights legislation, Mr Drakeford said.