Reaction: Extra Budget money 'should create jobs'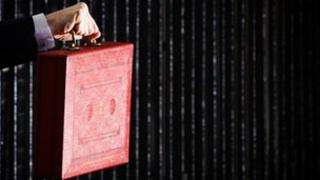 Extra funding for the Welsh government as a result of the Budget should be spent on creating jobs and helping the economy, a business group says.
The Federation of Small Businesses (FSB) said other measures announced by the chancellor would help companies.
Coalition politicians said a further 12,000 Welsh people will be lifted out of paying income tax.
But the Labour government in Cardiff Bay criticised a "disappointing" Budget it said would hurt public services.
Some of the reaction from Wales to the Budget:
Business
The FSB said cuts to employers' national insurance contributions went further than it had asked for.
Help for people buying new-build homes would "reinvigorate" the construction industry, FSB Welsh policy chair Janet Jones said.
She said: "The chancellor has presented a wide ranging package of measures to support small business.
"As regards the extra capital spending for Wales, it is important that the Welsh government spends on capital projects that not only will create jobs but will be of lasting value to the economy."
Housing and construction
Neal Stephens, managing director of Willmott Dixon Wales said the help-to-buy initiative stood out from the Budget because its scope was greater than previous housing measures.
"The initiative is not restricted to first-time buyers so it can help anyone looking to buy a new home and the fact that it can be used for properties up to the value of £600,000 means that it applies to an almost all-encompassing proportion of the market.
"This will boost house-builders' confidence in the property market and trigger new developments.
Nick Bennett, group chief executive of Community Housing Cymru welcomed measures to boost housing affordability and construction as well as the additional £161m in Welsh government capital ''spending power''.
"We are urging them to invest this, along with the £227m consequential they have yet to allocate, towards a welfare defence programme to mitigate against the worst effects of hurricane housing benefit."
Political
The Welsh government said the extra funding it had received for long-term capital spending - which pays for building and infrastructure projects - came at a high price.
By 2014-15 its capital budget will be 40% less than it was in 2010-11 in real terms, the Welsh government says.
It said the extra funding announced on Wednesday was "far short of what we called for and urgently require".
The Welsh government's revenue budget - which pays for day-to-day spending - is being cut as a result of a Whitehall spending squeeze.
However the UK government says the 0.2% cut for Wales is smaller than the 1% faced by some UK government departments.
Welsh government Finance Minister Jane Hutt said: "Despite the recent loss of triple A status, borrowing costs remain very low and we would like to see the UK government take advantage of this to support capital projects.
"The time now is right to boost the economy - especially with the disappointing jobs figures today."
Welsh Secretary David Jones said: "What this Budget shows is that this government is determined to pave the way for a sustainable economic recovery.
"We are creating the conditions to help businesses in Wales to start, grow and develop, to help individuals care for their families and to support everyone's aspirations for a more prosperous Wales."
His Conservative colleague Andrew RT Davies, who leads the Tories in the assembly, said: "This is a Budget targeted at growth that helps and supports communities across Wales.
"From fuel duty to income tax, from childcare to capital spending; this is extremely welcome news that provides a stark contrast to Welsh Labour's tired policies and casino economics."
Labour's shadow Welsh secretary Owen Smith pounced on the cut in the forecast for economic growth and rising national debt.
He said: "It didn't have to be like this, of course.
"The chancellor could have introduced a package of measures to stimulate our economy: cuts to VAT and national insurance, for example, and increased spending on house building and other infrastructural projects that would increase economic activity and boost tax receipts."
Welsh Liberal Democrat Kirsty Williams said: "This is a budget that delivers Welsh Liberal Democrat policies to help families with the cost of living and invest in the future of our economy, while making responsible choices to deal with the financial problems Labour left us with."
Plaid Cymru said the chancellor should have used the opportunity to introduce the recommendations of last year's Silk Commission report. It said the Welsh government should have some new powers to vary taxes and borrow money.
Plaid MP Jonathan Edwards welcomed more support on childcare costs and a decision to cancel a rise in fuel duty, planned for September.
However, Mr Edwards said: "This was a bland Budget by a chancellor trying to convince himself that his policies are working, despite a further growth downgrade by the Office for Budget Responsibility."
Unions
Unite Wales secretary Andy Richards said a "huge chunk" of the Welsh workforce would be hit hardest by pay increases being held to not be more than 1%.
"Wales is set to disproportionately feel the impact of this pay restraint as more people are employed in the public sector here - this is not good for the workforce and not good for Wales."
Social
Mary Powell-Chandler, head of Save the Children in Wales said the promise of an "aspiration nation" would ring hollow.
"None of the measures announced today target the poorest children," she said. "We know from our work helping children in Wales, just how much families - the majority of them in low paid employment - are struggling to make ends meet, cutting back on food, heating and warm clothes."
Julian Rosser, head of Oxfam Cymru, said: "Raising the tax threshold will do almost nothing for those on the lowest incomes and indeed offers more to higher earners. The 1% cap on working age benefits and other looming welfare cuts are going to hit the incomes of the least well off and could push 200,000 more families below the bread line."