ONS: Wales unemployment up to 125,000 from November to January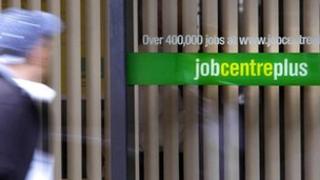 Unemployment in Wales rose 7,000 in the three months to the end of January, official figures show.
The Office for National Statistics (ONS) said 125,000 people were out of work during the quarter.
The unemployment rate of 8.4% was up 0.5 percentage points, although that is lower than a year earlier.
Figures released as the chancellor prepared to deliver his Budget to parliament on Wednesday showed unemployment across the UK rose.
The UK's jobless total increased by 7,000 to 2.52 million, ending a run of reductions.
The number of people in work in Wales between November and January fell by 8,000 - or 0.6% - to 1.353m.
Despite the rise in unemployment, the figure is still 8,000 lower than it was at the same time in the previous year.
A separate monthly tally of unemployment, which looks at the number of jobseekers' allowance (JSA) claimants, also showed a slight rise.
Last month 77,700 people in Wales claimed the allowance - 200 more than in January. However, that is fewer people than in February 2012 when 79,700 claimed JSA.
Speaking on behalf of the UK government, Welsh Secretary David Jones said: "While today's employment figures are disappointing for Wales, they also highlight the need to strengthen the Welsh economy.
"The Welsh government is responsible for economic development in Wales, but we want to work with them to seize every opportunity to attract investment and create jobs."
The Welsh government said the figures showed the employment rate in Wales had improved over the past 12 months despite the fall this quarter.
"The economic situation in Wales remains challenging due to the weak global economy and spending cuts imposed by the UK government," said a spokesperson.
"Whilst the UK government holds all the major macroeconomic tools, the Welsh government is doing all we can to help people back into jobs or training."
The Welsh government said thousands of jobs had been created through its schemes such as Jobs Growth Wales and its business start-up programme.
Liberal Democrat AM Eluned Parrott blamed the Labour Welsh government for the poor performance, saying First Minister Carwyn Jones and Economy Minister Edwina Hart "urgently need to step up a gear if Wales isn't to fall further behind".
But Labour's shadow Welsh secretary Owen Smith said: "It's the Tory-led [UK] government's failing record on the economy that explains today's rise in unemployment in Wales and the longer-term flatlining joblessness."
Plaid Cymru leader Leanne Wood said she was "appalled" at the jobless figure.
"Wales is responsible for the entire increase in UK unemployment," she said. "Compare this with Scotland, where unemployment has actually gone down.
"This is dreadful news, especially with the UK on the verge of a triple-dip recession, and my feelings are with the many families who are suffering as a result of this."