Budget 2013: Carwyn Jones' borrowing plea is 'casino economics' claim Tories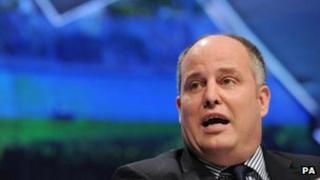 A plea by the first minister for billions of pounds of extra borrowing has been attacked as "casino economics" by Conservatives in Wales.
Carwyn Jones made the call ahead of Wednesday's Budget and urged the chancellor to change direction.
The Labour-led Welsh government is facing a 40% cut in its capital budget - which pays for buildings and infrastructure - over three years.
The Treasury has defended its plans to restore public finances.
At a news conference, Mr Jones said the UK government's austerity measures were not working.
He said the Welsh government had a series of schemes that would help the economy if the chancellor provided funding for an economic stimulus.
Pressed to put a figure on the amount by which he wanted George Osborne to boost spending, Mr Jones initially replied: "How long is a piece of string?"
He went on to say that the 40% cut should be reinstated.
Such an increase in infrastructure spending above current plans next year would cost around £460m.
Because of the so-called Barnett formula - the Treasury formula which sets the size of the Welsh government's budget - it implies a UK-wide spending increase of around £8bn.
"We've got a 40% cut in our capital budget over three years. Re-instate that and increase it. That gives you an idea of how much of an increase we're talking about here," Mr Jones said.
He added: "As far as we are concerned he needs to be able to borrow enough money to accelerate the projects that we have in Wales. In terms of generally across the UK that's a matter for him to assess.
"It's in the billions, clearly.
"But we know history teaches us that where you borrow to invest - particularly when the costs of borrowing are as low as they are at the moment - you can stimulate the economy and that means of course the economy would grow and then you start looking at paying off debt."
Andrew RT Davies, who leads the Conservatives in the assembly, said: "This is casino economics.
"Carwyn Jones naively clings to the view that the way to get our country out of a debt crisis is more debt.
"Britain's economic troubles were brought about by the previous Labour government spending and borrowing too much, building up the biggest budget deficit since the Second World War.
"Conservatives in government have been taking the tough decisions to reduce the budget deficit."
The Treasury said the UK government had a "credible plan" for low interest rates and to restore the public finances.