Subsidy boost for businesses that recruit apprentices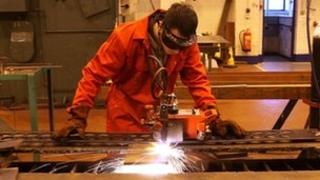 Ministers have outlined plans to spend an additional £40m on creating apprenticeship places over the next two years.
It follows what AMs called a "substantial decline" in the number of apprentices in recent years.
The funding is part of a budget deal that Labour struck with Plaid Cymru last year.
It includes a one-off payment of £500 to help small businesses overcome the cost of recruiting an apprentice.
Employers offering full-time apprenticeships for 16 to 24-year-olds through the young recruits programme will get a 52-week wage subsidy of £3,900.
It doubles the current wage subsidy of £50 per week to £100 for the first 26 weeks.
A further £3.4m will be available to help people get training through the Welsh language.
Deputy skills minister Jeff Cuthbert said the focus would be on creating more higher level apprenticeships.
A report by the assembly's enterprise and business committee last year said the number of apprenticeships fell from 53,165 in 2006/07 to 39,600 in 2010/11.
Plaid Cymru AM Simon Thomas said: "Our budget negotiations have paved the way for more than 5,000 highly skilled apprenticeships to be created in Wales which are badly needed."