Conservatives: Welsh high earners 'should pay less tax'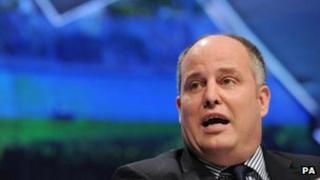 Higher earners should get a temporary income tax cut if tax powers are devolved to the Welsh assembly, the leader of the Conservative group says.
Andrew RT Davies believes cutting the 40p tax rate - paid by around 120,000 people in Wales - would encourage enterprise.
The Tories have not said by how much the tax should be cut, or for how long.
Opponents responded by criticising the handling of the economy by the Tory-led coalition government in Westminster.
A 1p cut in the 40p rate would cost between £12m and £16m a year.
The rate applies to taxable earnings over £34,370 a year.
The idea, to be unveiled in a speech by Mr Davies in Cardiff on Monday, comes as Welsh parties begin to develop distinct tax policies for the first time.
The Silk Commission examining further devolution has proposed that the Welsh government should have the power to vary income tax by 2020, and the Liberal Democrats have already proposed a cut in the basic rate of tax from 20% to 18%.
"Tax is one of the most important levers that any government has at its disposal. And with income tax being the most important, its devolution as recommended by an independent commission is a real game changer," Mr Davies will say.
"If some elements of income tax are devolved, it would in my view be necessary to look at a period of reduced taxation for the entrepreneurial, whether private or public sector - those paying the 40% tax rate.
"This would not only send out a strong sign to business in competing regions of the UK, but it would spell out that Wales is well and truly open for business."
'Enterprise'
A tax cut would encourage a "a spirit of greater enterprise in our country," he will add.
In November the Silk Commission report called for a referendum to allow the Welsh government to vary income tax by 2020.
The changes would make the Welsh government responsible for raising around a quarter of its own budget.
At the time First Minister Carwyn Jones said the Welsh government was not seeking tax powers in order to raise them.
"The whole point about getting taxes devolved is not to increase them, it's on occasion to decrease them as well," he said.
The Welsh government said the Conservatives had not explained how they would pay for the tax cut.
"They are silent on what services they will be prepared to axe in order to pay for this tax cut," a source said.
The Welsh government says powers to vary income tax should not be devolved without a referendum.
"We believe it's premature to develop any detailed tax policies at a time when the UK government has yet to announce whether it will devolve any taxes to Wales, let alone whether it will allow devolution of powers that would permit the sort of rate-varying policy that the Welsh Tories have proposed."
The UK government said it was considering its response to the Silk Commission and would respond "in due course".
Labour contrasted the Tories' proposal with Ed Miliband's recent announcement that Labour would re-introduce the 10p tax rate.
Shadow Welsh secretary Owen Smith said: "This is a half-baked plan that won't help the Tories' credibility following the humiliating loss of Britain's AAA credit rating this weekend."
Plaid Cymru leader Leanne Wood said: "We are somewhere between three and seven years away from getting powers over taxation transferred to Wales.
"It is impossible to accurately predict what the Welsh economy will look like at that time."
Writing on twitter, Tory AM Antoinette Sandbach said the Conservative group in Cardiff Bay had not discussed the tax cut.
"As the latest tax policy has not been discussed with group I understand it is a 'proposal' only," she said.