Plaid Cymru's Leanne Wood: Legislate for more women AMs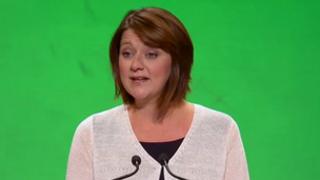 Plaid Cymru leader Leanne Wood says a change in the law might be needed to make sure more women are elected to the Welsh assembly.
She said that measures to select female candidates in her own party "are not always at their strongest".
Assembly Presiding Officer Rosemary Butler has said she wants more women elected after a decline.
Ms Wood - who is Plaid's first female leader - said that legislation might be necessary to alter the gender balance.
However, she was not specific on what changes were needed.
She said: "Within Plaid Cymru, we have a strong internal democracy which reflects how much we rely on the party membership as a grassroots body.
"The side effect of this is that measures to promote women are not always at their strongest, but must be balanced out with local party control.
"Over the years we have also seen that this is true outside of Plaid Cymru as well, as tensions between local party democracy and central party machines have been apparent in other parties."
Ms Butler has previously written to party leaders, saying the make-up of the chamber must reflect the population at large.
In 2006, 52% of the 60 AMs were women, but that figure has now fallen to 44%.
Speaking to BBC Radio Wales' Sunday Supplement Ms Wood said there was "a gap in gender balance and if nothing is done that will continue to grow and we will end up being dominated by the usual agenda which is male, pale and stale".
She acknowledged it was a difficult area to try and get right, but added that people with disabilities or people from minority backgrounds also needed to be involved.
"Politics needs to reflect everyone in society, not just the small traditional group," she added.