GCSE re-grading: Leighton Andrews says changes will avoid repeat of row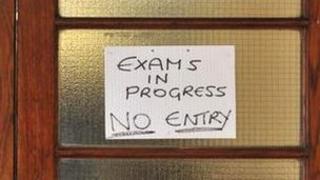 Wales will set its own grading system for English language GCSEs to avoid a repeat of last summer's re-grading row, Education Minister Leighton Andrews has announced.
He says the thresholds between grades in the subject will no longer be agreed with England and Northern Ireland.
Previously the three countries had shared the same grade boundaries.
But opponents criticised the changes and Wales' biggest exam board said it would not have "advocated" them.
Last year Mr Andrews ordered that more than 2,000 GCSE English language papers should be re-graded, saying the way the boundaries were set was unfair to Welsh students.
From now on, Mr Andrews wants exam boards to use a separate Wales-only system for awarding grades.
He said the "new conditions will ensure that the awarding of the WJEC's GCSE English language qualifications in Wales will be separated from the arrangements for English language in England".
It could mean the grades awarded to pupils sitting GCSEs in Wales will not necessarily be comparable to those sat in England and Northern Ireland.
There have been increasing differences between the exams systems of the three countries. Scotland has its own qualifications.
The Welsh government is planning to create a new body to independently regulate exams and award qualifications.
'Same currency'
Mr Andrews said: "GCSE English language is a key qualification.
"I am determined that learners in Wales should have confidence that they achieve the grades that their work deserves and that other stakeholders should also have confidence that this is the case."
The WJEC exam board expressed concern at the minister's announcement.
The board said the qualifications of Welsh teenagers ought to have "the same currency" as those in the rest of the UK.
"In particular, GCSE qualifications in core subjects such as English language are used by learners as either a passport to employment or to further study," a spokesperson said.
"It is therefore essential that we continue to work with regulators and with other awarding organisations to ensure comparability and consistency of standards within the GCSE brand.
"The special condition in relation to separate papers for candidates in Wales is not one which WJEC would have advocated, but we now need to explore the implications of this with Welsh government and Ofqual jointly in order to be able to continue to provide assurances regarding comparability of standards."
The Conservatives attacked an "ill-advised announcement" which "risks devaluing Welsh GCSEs and confusing employers".
Education spokesperson Angela Burns said: "It is inexplicable why the minister has singled out GCSE English language to create different grade boundaries to examinations set in other parts of the UK."
Plaid Cymru education spokesman Simon Thomas said: "Now the Welsh government is departing from the three-country system of regulation but importantly doing this without an independent regulator to pass judgement on the merits of the case."