Dafydd Elis-Thomas: Cut 22 councils to seven, says AM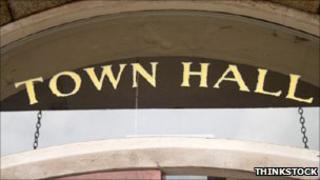 A dramatic reduction in the number of councils in Wales has been called for by former Plaid Cymru leader Dafydd Elis-Thomas.
The assembly member said Wales' 22 local authorities should be reorganised into between five and seven counties.
He said the restructuring should follow the same path as the reorganisation of local health boards in Wales.
Reforms should also include cutting the number of Welsh MPs and increasing the number of assembly members, he added.
Speaking to BBC Wales' The Wales Report programme, he said: "In health we've already gone there.
"We already have seven health boards and the answer is to slimline the internal governance of Wales and then we need to deal with the national governance and the external governance.
"The decision has been made by the health structure - Wales should have something in the region of between five and seven counties."
Lord Elis-Thomas said the reduction of Wales' local authorities should be part of a wider package of reform, including cutting the number of Welsh MPs and increasing the number of assembly members.
He agreed with comments made by Professor Richard Wyn Jones, of the Wales Governance Centre, who told the programme: "The notion that Wales has a divine right to 40 MPs is preposterous and some of the arguments over the last few weeks have been risible and embarrassing.
"There is no rational reason why Wales has more MPs per head than any other part of the UK."
Welsh law
Responding to Prof Wyn Jones' views, Lord Elis-Thomas said: "Thirty MPs, well that should have happened already really.
"I agree with Richard Wyn Jones, with his rather cutting remarks there. I can't really disagree with that, although politically I'm supposed to take the other view."
The number of assembly members should be increased to 80, according to Lord Elis-Thomas, who is the AM for Dwyfor Meirionnydd.
He said the package of reform changing the number of politicians in Welsh local authorities, at Westminster, and in the Assembly should be implemented by 2015.
"I think it should be implemented by the incoming Westminster government, preferably before the next assembly elections," he added.
"We must be able to call Welsh ministers to account better than we are now and make better Welsh law.
"What's the point in making Welsh law for the past 1,000 years if we're not going to do it better than Westminster?"
The Wales Report is on BBC One Wales at 22:25 GMT on Sunday 3 February.