Welsh student university applications fall 2.1%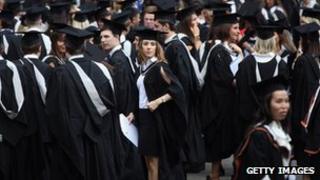 The number of Welsh students applying for a university place has dropped compared to last year bucking the UK trend, admissions service Ucas says.
Throughout the UK there was a 3.5% rise in the number of applications although in Wales it was down by 2.7%.
But there is a rise in those wanting to attend Welsh universities from outside Wales.
Had there been a fall, there were fears over the Welsh government's tuition fees policy for Welsh students.
That involves topping-up contributions to tuition fees above £3,500 for Welsh students - whether studying in Wales or not.
As average tuition fees in England have now hit £8,500, it means each Welsh student deciding to study over the border will take a £5,000 Welsh government subsidy with them per year.
It is hoped those sums would be offset by the number of students from outside Wales choosing to studying in Wales and paying the full tuition fees of up to £9,000 charged by some of the institutions, such as Cardiff University.
According to an investigation by the BBC's The Wales Report earlier this week, in 2012, more than 7,000 Welsh students crossed the border to study outside of Wales - a 13% increase on the year before.
This saw the Welsh government pay £31 million in fees to universities in other parts of the UK.
However, the number of English students enrolling at universities in Wales in 2012 fell by nearly 17% compared to the previous year.
Swansea and Bangor universities both said the number of applications to their institutions had risen compared to last year, with Swansea claiming a 25% increase across domestic and foreign student applicants.
And education experts questioned whether the £1.5bn policy was sustainable if fewer students came from outside Wales paying the full fees.
Deian Hopkin, a member of the Higher Education Commission UK told the programme: "I don't think anyone can deny we're moving into somewhat uncertain territory.
"For a variety of reasons, applications to Wales and indeed, enrolments in Wales last year dropped faster than perhaps people had hoped.
"But what is also interesting is the number of students coming across the border from England has declined. So the uncertainties are now growing and, I guess, the calculations of how the flow of money is going, may now have to be revised."
The Welsh government has said it remains committed to the current tuition fee policy until at least the next assembly elections.
UK wide figures show numbers applying to university overall are up on last year but have not recovered compared to the previous year.