BBC Cymru Wales withdraws Casualty smoking plot change claim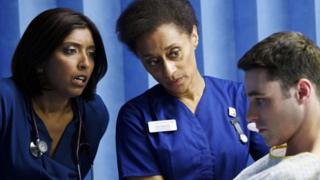 BBC Cymru Wales has withdrawn its claim that a story line in medical TV drama Casualty had to be pulled because of the smoking ban on film sets in Wales.
It now says the story did run after the production team found an alternative way of filming a smoking scene.
The claim was made in evidence to an assembly committee examining whether film sets should be exempt from the smoking ban as they are in England.
BBC Cymru Wales has apologised for the error and asked to amend its evidence.
Casualty is filmed at BBC Wales' Roath Lock studios in Cardiff where smoking is banned under Welsh anti-smoking regulations.
In England, a specific exemption exists for film and TV productions.
BBC Cymru Wales said it had offered committee members its sincere apologies, saying the evidence was given in good faith but had later proved to be incorrect.
A spokesperson said they had written to the committee to amend Tuesday's evidence.
"In the session, reference was made to an occasion where a proposed Casualty storyline had to be dropped due to complications around filming a lit cigarette.
"It has since been drawn to our attention by the Casualty production team that they found an alternative way of shooting the relevant scene. To be clear, no change was made to the plot of that episode.
"The evidence presented was given in good faith based on information we now know to be incorrect.
"In the interest of presenting the facts as accurately as possible, we have asked the chairman to draw this to the attention of sub-committee members.
"We have also asked the sub-committee chairman for any guidance he can give on amending this part of our written supplementary evidence in light of this and have expressed our sincere apologies for this error."
In their original evidence arguing for a Welsh exemption to the ban on Tuesday, BBC Wales said: "In Casualty, there were plans to use smoking as a cautionary moral tale with a smoker in a hotel room causing a blaze, which formed the central plot line of an episode.
"However, the existing legislation made filming the scenes too difficult to contemplate within the production budget and schedule, and a strong storyline which would have highlighted one of the hazards of smoking, had to be changed to something else."
The issue of smoking on film sets has divided AMs, who will vote on a Welsh government-backed exemption later this spring.
Organisations including Ash Wales and the British Heart Foundation told AMs that they believed there was no justification for lifting the ban in Wales and that alternative means could be found of filming smoking scenes, including artificial cigarettes and computer generated imagery (CGI).