Organ donation: Opt-out bill to exclude some transplants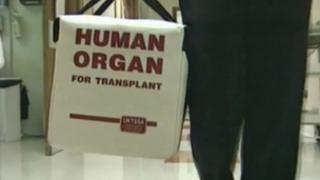 New rules on organ donation will not assume people have consented to have their tissue used for procedures like face transplants, the health minister has said.
Lesley Griffiths was answering AMs' questions on the bill to create the UK's first opt-out organ donor system.
The minister said transplants of hands, limbs and faces would not be included.
She agreed to consider ways of making this clearer, after a request from Plaid health spokesperson Elin Jones.
The bill would mean everyone normally resident in Wales is considered to be a willing organ donor when they die, unless they have stated otherwise.
The Welsh government believes the Human Transplantation (Wales) Bill will increase organs available for transplant by a quarter and it hopes the legislation will become law by the summer.
If passed by AMs the new system could come into force by 2015.
Ms Griffiths told the health committee that, on average, three people a month in Wales die while waiting for an organ transplant and a new "soft opt-out" organ donation system would "significantly improve" on that situation.
She said the intention was to ensure that the wishes of the deceased were clarified.
Although families will have no legal right to prevent their loved ones organs being used for a transplant, she repeated previous assurances that, in reality, no clinician would insist on this if there were strong opposition from a family member.