Unemployment in Wales falls 1,000 between September and November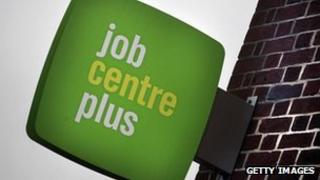 Unemployment in Wales has fallen by 1,000, official figures show.
The number of people out of work fell to 124,000 between September and November 2012, the Office for National Statistics (ONS) has said.
In Wales, 8.4% of the population is out of work.
Across the UK, unemployment fell by 37,000 between September and November to 2.49 million - the lowest figure since May 2010.
Welsh government Business Minister Edwina Hart said the figures showed the situation remained "challenging".
"The poor performance of the global economy, together with spending cuts imposed by the UK government, which will not support growth or jobs, mean our economic prospects continue to be very uncertain," she said.
The UK's economic inactivity rate is the highest in Wales (25.0%) and lowest in the east of England (19.6%), according to the figures.
The Federation of Small Businesses (FSB) in Wales cautiously welcomed the fall, but Janet Jones, who chairs its policy unit, said: "Clearly the challenge is to get more people back into work and economically active, and it's disappointing to see very little progress on this a year on."
She said it was important that small and medium-sized enterprises (SMEs) had continual support from both the Welsh and UK governments as they were key "pathways to employment for the unemployed and those who have been economically inactive for a long time".
The ONS uses an internationally-recognised survey to produce an estimate of the UK's workforce every month.
The number of people claiming jobseeker's allowance last month fell by 12,100 to 1.56 million.
Across the UK, a record number of people are in work after another fall in unemployment and a further dip in the numbers claiming jobseeker's allowance.
Almost 30 million adults were in a job in the quarter to last November, up by more than half a million on the previous year.
'Nearly flat'
The figure, giving an employment rate of 71%, is the highest since records began in 1971.
The ONS said the largest quarterly decrease in employment was in Wales, a drop of 1.2 percentage points. However, statisticians said this appeared to be due mainly to an unusually high estimate for the three months to August 2012.
"The underlying pattern for Wales appears to be nearly flat," said the ONS.
Unemployment fell by 37,000 in the latest quarter to just under 2.5 million, the lowest since spring 2011.
It was the 10th consecutive fall and was coupled with another cut in the number of people claiming jobseeker's allowance, which was down by 12,100 last month to 1.56 million, the lowest since June 2011.
The number of job vacancies in the economy increased by 10,000 to almost half a million at the end of last year, the highest number for four years.