Welsh assembly: Two AMs took £30,000 pay cut, says Hansard Society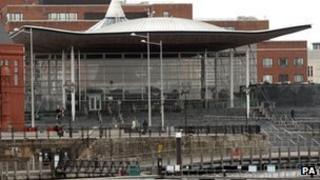 Two members of the Welsh assembly have told researchers they took a £30,000 pay cut when they were elected.
Surveys and anonymous interviews by the Hansard Society lift the lid on what life is like in the first year of being an AM.
New members felt the Welsh government was not accountable enough and that their work-life balance suffered after being elected.
The report says many feel as though there are not enough hours in the day.
Twenty-three new AMs were elected at the last election in 2011 out of the total of 60. Of those, 12 took part in a survey in July that year and seven were surveyed the following April. Eleven took part in interviews.
Half of the survey respondents said AMs' pay of £53,852 was bigger than their previous salary, while the other half had a cut or saw no change.
Getting elected meant a salary increase of at least £30,000 for two AMs. Another two saw a salary decrease of £30,000 a year or more.
A year into the job, AMs were working an average 57 hours a week, plus travel.
When they first arrived in Cardiff Bay, new AMs - who have no formal job description - said championing their constituents was their top priority.
A year later they said holding the government to account had become the number one priority.
'Every vote counts'
Pressure on time was a common issue. Unlike MPs in Westminster, attendance in the chamber and at committees is almost compulsory, the report says.
It points out that "with Labour forming a minority government, every vote counts".
A "regimented timetable" makes it difficult for AMs to do other things, while gaps in their schedules are "heavily targeted by lobbyists looking for meetings with AMs".
During their first year, AMs' satisfaction with their work-life balance deteriorated.
One said their family was spending "an absolute fortune on childcare" and relying on favours.
Another said: "You can't go out and have a few beers and just be one of the boys, rugby boys, as perhaps one has been in the past."
However new AMs praised the assembly's family-friendly working hours and the fact recess coincides with school holidays.
'Pantomime for public consumption'
But there were complaints about assembly procedures, with questions to ministers being described as a "pantomime for public consumption".
Another said plenary sessions - meetings of all 60 AMs on Tuesday and Wednesday afternoons - were "overrated".
The report talks about a "perceived lack of accountability" for Welsh government ministers and officials to the assembly.
They thought the 60-member assembly was too small, although the assembly's size meant members were virtually guaranteed to be called during debates.
New AMs were generally critical of media coverage of the assembly, and one was "surprised by the bitchiness of some media reporting".
After talking to AMs a year following the election, the report says: "Despite the long hours, the travel, the challenges and frustrations, the new AMs are still delighted to have been elected and be doing the job."