BBC says smoking ban could force dramas out of Wales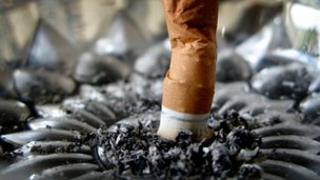 BBC Wales has warned it may have to film prestigious dramas in England unless the smoking ban is relaxed.
However, campaigners are strongly opposed to calls from the film and TV industry to change the law.
The Welsh government wants to introduce an exemption, as there is in England, so actors can smoke on film sets.
The anti-smoking group Ash says a Welsh opt-out could prompt appeals from other industries for an exemption on commercial grounds.
BBC Wales says the existing ban might influence where it films a 1970s Cold War spy thriller which needs to feature smoking scenes for historical accuracy.
It can cost £30,000 to create a 10-second smoking scene with computers, according to evidence presented to Assembly Members.
BBC Cymru Wales has joined film industry bodies to call for changes to the ban on smoking in enclosed public places so actors can smoke on screen for creative reasons.
In evidence to a group of AMs, it says that the exemption must be introduced to stop the extra costs for Welsh-based productions of either having to film smoking scenes in England or use CGI (computer-generated imagery) to add cigarettes and smoke in post-production.
BBC Wales says if the ban was lifted smoking in productions would be closely controlled and alternatives would be sought before real cigarettes were used.
It adds that filming locations are being discussed for a six-part drama series called The Game, which was announced for BBC One before Christmas.
Set in the world of 1970s espionage, it is likely to include fictional smoking due to the period and subject matter.
"In this case the decision on filming location is finely balanced and the existing smoking legislation in Wales may have an impact on the final decision," BBC Wales says.
Economic benefit
"We want to make it clear that, in the event of the exemption being passed, we would not seek to introduce more portrayal of smoking in our dramas.
"The only result of such an exemption would be that scenes which involve real smoking could be filmed in Wales, rather than England.
"We believe that the introduction of an exemption to the ban would help to ensure that even more of the economic benefit of Wales-based drama will flow into the Welsh economy."
It says the existing ban could dissuade drama producers from making programmes in Wales.
"Often decisions about where to film a drama for TV are very finely balanced, and there is a risk that the ban might tip the balance in the wrong direction," it says.
Proposed regulations to exempt film sets have divided AMs. As a result, the Welsh government has asked a joint sub-committee of the assembly's enterprise and health committees to hear arguments.
The committee took evidence 10 years to the day after the assembly voted in favour of a motion calling for a ban on smoking in public buildings.
There will be a vote in the Senedd later this year on whether the exemption should be brought in.
Anti-smoking group Ash told Tuesday's sub-committee meeting that an exemption is "wholly unnecessary" and could lead to other industries appealing for an exemption.
'Powerful vested interests'
The ban should remain in place to protect workers, it told AMs.
It says: "If this exemption is passed on the basis of commercially supporting a specific industry, we can expect a litany of requests from other industries such as pubs, clubs and the tourism industry for exemptions due to tough economic times."
Cancer Research UK director of tobacco control Dr Jean King said: "Our concern would be that other industries - and not just industries, but very powerful vested interests behind those industries - support those industries to get put forward cases."
Ash press and campaigns manager Felicity Waters told AMs the introduction of the ban in 2007 had created a "significant change in people's behaviour", with a 2 -3% drop in smoking rates.
"We are moving in the right direction and do not need to be taking a backward step," she said.
She said that Ash had obtained a quote from a special effects company of £250 a day for CGI work.
Although there may be occasions where smoking needs to be portrayed in period dramas, it could be done in Wales and "certainly nowhere near the cost of going to Bristol to film scenes", she said.
"What we are concerned about is that the creative industries are saying that allowing smoking in Wales is going to create jobs," she said.
"That is simply not true.
"There is no evidence at all that production companies have chosen England over Wales to film a shoot because we don't offer smoking."