Wales' top doctor proposes fast food ban near schools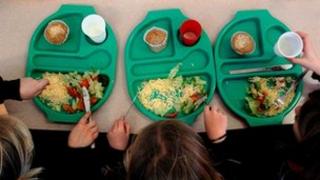 Wales' chief medical officer has suggested banning fast food outlets near schools.
Dr Ruth Hussey said keeping children in school at lunchtime and providing healthy meals could tackle obesity.
Official figures say 35% of children in Wales are overweight and 19% of them are obese.
The Welsh government is considering whether legislation would help deal with obesity and other public health problems such as smoking and drinking.
Dr Hussey said banning applications for fast food outlets near schools might make a difference.
Preventing pupils from leaving school at lunchtimes and providing them with healthy food could also have an impact, she said.
The Welsh government said she was trying to encourage a debate and there were no specific proposals on how close takeaways should be allowed to school gates.
'Healthy choices'
Dr Hussey said: "Obesity in childhood can lead to a lifetime of serious health problems, including heart disease, cancer, diabetes and high blood pressure.
"Refusing applications for more fast food outlets in the vicinity of schools would support children to make healthier food choices."
The Welsh government has published a green paper asking whether a Public Health Bill is needed.
Any proposed law changes would have to be within the assembly's power and comply with human rights legislation.
The green paper says that although health is improving, it is not as good as it should be.
A bill could place a legal duty on public bodies to consider the health of the nation and to make sure that policies are as beneficial as possible to public health.
Through planning guidance adopted in December 2011, Wrexham council has banned new hot food takeaways opening within 400m of schools.
Wrexham councillor Arfon Jones petitioned the assembly last year calling for an exclusion zone that would also stop takeaway vans trading near schools.
He welcomed the chief medical officer's proposal, but said the Welsh government should also look at fast food vans.
"We need to close loopholes and prohibit fast food vehicles as well," he said.
"I would like children to eat school meals and healthy options.
"Anything we can do to further that and reduce obesity and ill health among children has to be encouraged."