Cardiff North Conservative MP Jonathan Evans to step down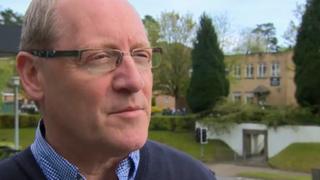 The Cardiff North Conservative MP Jonathan Evans has announced that he will stand down from Wales's most marginal seat at the 2015 election.
The former Euro MP and Welsh Office minister, aged 62, won the seat from Labour's Julie Morgan in 2010 by just 194 votes.
He said a new fixed term parliament would mean serving until 2020.
"That is a commitment which is I believe is too lengthy for me to make," Mr Evans told his constituency party.
Mr Evans was previously the MP for Brecon and Radnor 1992 and 1997, when he lost the seat - renamed Brecon and Radnorshire - to the late Liberal Democrat Richard Livesey.
During that time, he held a number of junior minister's posts in John Major's government, including a spell under William Hague at the Welsh Office.
Two years after losing his Westminster seat, he was elected as a Euro MP in 1999.
European years
He spent 10 years in the European Parliament - rising to lead the Conservative group before stepping down to fight the 2010 General Election.
Mr Evans said: "It is now 40 years since I was first selected at the age of 22 as a Conservative parliamentary candidate against the late Michael Foot.
"Twenty one years ago I was first elected to the House of Commons and I have altogether fought nine parliamentary election campaigns at Westminster and European elections since 1974."
He said the decision to stand down at the next election had been "difficult", but praised those who had backed him over the years.
"I have been honoured by the support I have received from voters in Cardiff North, Brecon & Radnor and throughout Wales during the course of my political career."
Welsh Secretary David Jones said: "Jonathan Evans has been a dedicated Member of Parliament to his constituency of Cardiff North and I know that as the Welsh MP with the highest parliamentary attendance he will continue to serve them up until the general election in 2015.
"He has had a fantastic career serving in both the House of Commons and the European Parliament, as well as being a minister in the DTI, Lord Chancellor's Department and the then Welsh Office.
"I understand his reasons for standing down in 2015 and wish him well with all his future endeavours."