Truancy: Ken Reid attacks 'slow progress' on tackling problem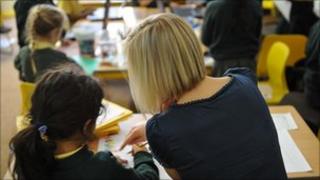 A leading expert has criticised the Welsh government for "painfully slow" progress in getting to grips with truancy.
Prof Ken Reid led a major review into attendance and behaviour in 2008.
But he says that despite a welcome from ministers, they have not fulfilled his recommendations to improve teacher training on managing pupil attendance.
The Welsh government said persistent absenteeism can affect children and all schools must have a behaviour policy.
Prof Reid has told an inquiry by AMs that too many children do not have their needs analysed or met.
In written evidence to the assembly's children and young people committee, Prof Reid says initial teacher training is "notoriously poor" at preparing teachers to manage behaviour and attendance.
His 2008 report called for a "significant" increase in funding for training.
'Disappointing'
"Despite this, progress on implementing the NBAR (National Behaviour and Attendance Review) recommendation on providing appropriate training for all staff engaged in behavioural and school attendance work has been painfully slow and disappointing," he says.
Five years on from the report - and despite similar findings by earlier studies - he says most staff remain in a similar position.
New teachers in Wales have been urged to take a postgraduate course which the education minister claims will help drive up standards in schools.
Dedicated training on attendance and behaviour is available for head teachers in England through a national school leadership programme, but "no such provision exists in Wales and most head teachers and their staff continue to learn 'on -the -job'".
Prof Reid supports a drive to improve school attendance, saying it is crucial if Wales is to achieve Education Minister Leighton Andrews's goal of reaching the top 20 countries in the worldwide Pisa tests for teenagers.
However, too many local authorities are focused on secondary schools, he says.
"Consequently, far too many pupils in Wales are not having their initial learning needs and support requirements analysed and met," he says.
A Welsh government spokesman said: "Attendance in Wales is improving. We have implemented Prof Reid's proposals and they are making a difference.
"Statistics from September show that the overall attendance rate in Wales' secondary schools has improved by 0.8 percentage points on the previous year.
"This is the largest single year-on-year improvement seen over the last seven years and shows the actions we're taking to improve attendance levels in Wales are starting to have an impact."
He said the introduction of secondary school banding, which takes account of absenteeism data, also appears to have been a factor in the improvement.
The spokesman added: "When a child is not in school that child is not learning."
"We recognise that persistent absenteeism can have a detrimental effect on a child's education and we have put in place a number of measures to improve attendance in our schools."
The parents of persistent truants would be fined under plans being considered by the Welsh government to introduce fixed penalty notices.
It is consulting on the introduction of £60 penalties for people whose children miss too much school, rising to £120 if they are not paid within 28 days.
Owen Hathway from the National Union of Teachers said he did not think the fines were a good idea.
"That's going to cause a huge rift between them and the parents. Its going to cause problems between the schools and how they relate with their communities," he said.
In 2011/12, out of 170,000 secondary school pupils in Wales, 52,486 missed up to five days of school. More than 18,000 missed more than 25 days.
In the same year 1.4% of half-day sessions were missed through unauthorised absence - a slight improvement on the previous year.