School banding: £10,000 confirmed for worst performers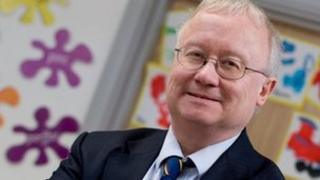 Schools in the bottom two performance bands will be offered an extra £10,000 each to help improve standards, the Welsh government has confirmed.
The banding system groups schools into five bands based on factors such as GCSE results and attendance.
A total of £840,000 will be available to the 84 secondary schools ranked in Bands 4 and 5.
But schools will have to submit action plans, with targets, before being granted the extra money.
The funding boost, announced by Education Minister Leighton Andrews, is the second in as many years.
Mr Andrews defended banding after the second batch of results was published in December.
It showed 10 schools dropped from Band 1 to Bands 3 or 4 while others made big strides up the banding table.
The Welsh government insists the banding system is more sophisticated than league tables and is not meant to name and shame poor performers.
However, teaching unions have questioned the value of banding as a way to improve standards.
Mr Andrews said: "I have made a clear commitment to raising standards and performance in schools in Wales, improving levels of literacy and numeracy and reducing the impact of poverty on educational attainment.
'Token gesture'
"The robust data we've made available through the banding system gives us and parents a clear picture of how our schools are performing and provides us with the information we need to challenge schools who are not delivering for our young people in Wales."
Band 4 and 5 schools had made "real progress", he said.
He added: "This funding will go a long way in helping schools which are in those bands this year deliver improvements for their learners."
For the Conservatives, education spokesperson Angela Burns said: "This is a crude and token gesture, which fails to recognise the distinct challenges facing schools, which could have ended up in a low band due to underperformance in any of 12 different criteria."