Electric shock collars: Plea to remove animal fences from ban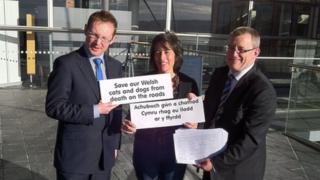 A campaigning couple want the Welsh government to amend a ban on electric shock collars for cats and dogs so pet owners can install invisible fences.
Monima and Martyn O'Connor, from Cardigan, delivered a petition to assembly members.
The fences shock animals if they get too close to a boundary, such as the edge of a garden.
The devices have been illegal in Wales since shock collars were outlawed in 2010.
Anyone caught using them can be fined up to £20,000 or jailed for up to six months.
Animal welfare groups such as the RSPCA and the Kennel Club support the ban on shock collars.
They are meant to be training aids which allow pet owners to shock their pets when they behave badly.
Mrs O'Connor, 52, said she supported the ban on shock collars, but called on the Welsh government to re-think whether it should apply to containment fences.
'Not cruel'
She took an interest in the law when her two cats, Blotchy and Blacky, died on the road outside their home last year.
It was only when a friend suggested she buy a containment fence that she discovered they were illegal.
"It's not at all cruel. It's basically harmless," she said.
"You could hit a dog with a stick - that's cruel."
The fences work by burying a boundary wire which transmits a radio signal to a collar.
The collar emits a warning sound if the cat or dog gets too close. If the animal does not retreat it gets shocked.
Mr O'Connor, a plumber, said the shocks were mild and animals soon learned not to approach the boundary.
"Nobody really considers it to be dangerous or harmful to pets in any way, and it's certainly not as intensive as livestock fencing," he said.
They handed in a 500-signature petition at the Senedd on Tuesday.