School closures: Councils have final say after panel climbdown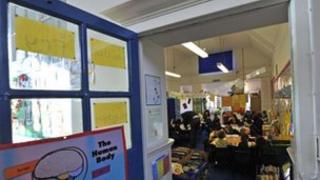 Decisions about school closures will no longer be referred to ministers after Welsh assembly members passed a bill.
Apart from certain circumstances, local councils will now have the final say on whether to close or merge schools.
Opponents to closures will not be able to appeal to ministers.
Education Minister Leighton Andrews initially proposed creating independent panels that would have the power to decide on schools shake-ups, but he dropped the plan following opposition.
A series of amendments to the School Standards and Organisation Bill were approved by AMs when the bill cleared its passage through the assembly on Tuesday.
At present, local councils' school re-organisation proposals are referred to the minister if someone complains.
Mr Andrews has complained about a system which allows a single objector to hold up the process.
He proposed setting up local determination panels (LDPs) to deal with such cases, but they were dropped from the bill after criticism from a number of sources, including teaching unions.
Following talks between Mr Andrews, Plaid Cymru and the Liberal Democrats, the bill was amended so councils will be allowed to determine whether reorganisations go ahead.
Ministers will only get involved in certain circumstances, for example if another council objects, if a shake-up affects a sixth form or where religious schools are involved.
However, Michael Imperato, a Cardiff-based lawyer specialising in education, said: "It means a local authority can do what it likes without an appeal process.
"It means that the Welsh government loses any element of control it had over local authorities who may be applying controversial school reorganisation policies."
Mr Imperato had also opposed the creation of LDPs, saying they risked becoming a "kangaroo court".
'No consensus'
Speaking during a debate in the Senedd on Tuesday, Mr Andrews said his "overriding objective" was to end a situation where half of decisions about schools end up on his desk. Decisions should be taken locally "wherever possible", he told AMs.
He confirmed that he changed his plans when it became clear "there was no political consensus around the establishment of LDPs".
The Conservatives' shadow education minister, Angela Burns, said it was a "matter of regret" that the Welsh government had not talked to her party, but agreed that removing the LDPs was "the most sensible way forward".
Plaid Cymru education spokesman Simon Thomas said his party wanted to see "something a lot more simple that people could understand".
"It's right and proper that local education authorities have all the powers to decide these things," he said.
Liberal Democrat AM Aled Roberts said that Mr Andrews "had discussions and came up with suggestions that local authorities were the best way forward".
The bill is also designed to make it easier for councils to intervene in schools when there is concern about standards and allows schools to vary the price of school meals to help low-income families.
Another measure forces councils to provide primary schools with free breakfasts for children if the school wants them.
AMs rejected a Tory amendment which meant that only children who qualify for free meals got free breakfasts.