Cardiff Airport: Direct South Wales coach route to rival Bristol Airport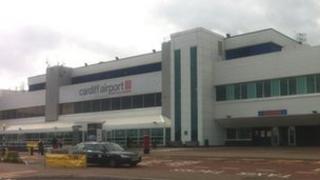 Troubled Cardiff Airport is facing the prospect of a direct hourly bus service between south Wales and its nearest rival in Bristol.
Holidaymakers in Swansea, Cardiff and Newport will be able to catch a coach to Bristol Airport, 24 miles (38km) from the Welsh border, from March.
The Welsh capital's airport has seen a steady decline in passenger numbers in the last five years.
Last month the Welsh government said it planned to buy the airport.
The Greyhound coach firm, which already operates between Swansea and Cardiff, is extending the route to call at Newport railway station, and the service will end "just metres" from Bristol Airport's check-in hall.
Bristol Airport chief executive Robert Sinclair told The Wales Report on BBC Wales TV: "We are delighted First [Greyhound's owner] has taken this step to enhance connectivity for people and businesses in Wales.
"This is an exciting new addition to the public transport options available for passengers in an important part of our catchment area."
He added: "The new Greyhound UK service will enable people in south and west Wales to access the extensive range of destinations available from Bristol Airport."
Mr Sinclair said that the service would benefit south Wales' economy by allowing in-bound visitors to reach tourist destinations like the Millennium Stadium in Cardiff and Swansea's Liberty Stadium.
It is estimated that 700,000 of Bristol's 5.7m passengers came from Wales in 2011.
The journey time from Swansea bus station to Bristol Airport has been put at two hours and 45 minutes, while the stage from Cardiff to Bristol will take an hour and 40 minutes.
The Welsh government announced last month that it intended to buy Cardiff Airport from Abertis, its Spanish owner, in attempt to increase routes and encourage more people through its gates.
Sharply critical
The deal is expected to be completed in the coming months.
A price has not been announced, but First Minister Carwyn Jones insists a commercial operator will be brought in to run the airport if the sale goes through.
Mr Jones has been sharply critical of the airport.
Total passenger numbers were down 13% in 2011 to a little over 1.2m. Over the same period, passenger numbers at Bristol Airport rose 1% to more than 5.7m, with 700,000 of those coming from Wales.
There was a further fall in the first half of 2012 to 440,000 from 558,000 - a decline the airport blamed on the departure of low-cost airline bmibaby.
Last week, the Conservatives in the Welsh assembly called on the Welsh government to prove its plan to buy Cardiff Airport would be good value for the taxpayer.
But ministers defended their plans, saying they have public opinion on their side.
There will be more about this story on The Wales Report on BBC One Wales on Sunday at 22:25 GMT.