Caravan 'rights' plan for Gypsies in Wales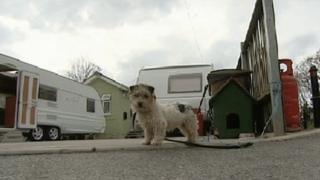 Gypsies and travellers on local authority sites in Wales could have the same rights as other static caravan owners under Welsh government plans.
The proposals would mean councils need to persuade a court that evicting a family is justified.
Currently, anyone with a pitch on an official council site can be given 28-days to leave.
A public consultation on the plans has now been launched by the equalities minister, Jane Hutt.
"We want to change the law in Wales to make sure that Gypsies and travellers are protected from unfair eviction from their homes," said the minister.
Human rights
"We plan to make councils fully explain to the court why they think a Gypsy or Traveller should be evicted from one of their sites. If the court disagrees, the family won't be evicted."
Under the proposals, the government said Gypsies and travellers would also see changes to the agreements for pitches on council sites, setting out how pitch fees are handled, how pitches can change hands, and introducing new rules for resolving disputes.
"By strengthening the rights of Gypsies and travellers we can make sure that Gypsies' and travellers' human rights are protected and that they are not unfairly evicted," added the minister.
"We are also making sure that councils are able to manage sites well, so that everyone who lives on these sites is treated fairly."
The public consultation is open until the end of March.