'Outrageous' council executives pay in Wales discussed by AMs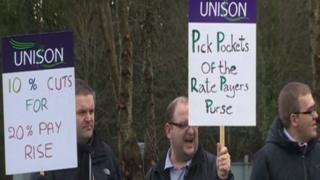 Ministers are being asked to "get a grip" over "outrageous" pay rises for senior council executives in Wales.
Conservative local government spokeswoman Janet Finch Saunders will tell the assembly later that the problem is "spiralling out of control".
She has highlighted the case of Caerphilly council, where protests were held last month after its chief was awarded a £27,000 rise.
The Welsh government says pay is a matter for elected councillors.
Last month, about 600 staff at Caerphilly council staged a lunchtime walkout in protest at pay rises for top officials.
There was anger over a decision to increase council chief executive Anthony O'Sullivan's pay grade from a maximum of £131,000 to £158,000.
The council's Labour leadership said it would take legal advice on whether it was possible to revoke the award.
Aberconwy AM Janet Finch Saunders AM says Welsh Conservatives discovered last year that "around 11 chief executives are now earning more than what our prime minister earns, which is around about £142,000".
She told BBC Wales the party wants "more transparency and accountability when it comes to the spend in local government".
She said the lowest paid workers in Caerphilly earned about £12,000, adding: "It's outrageous, it's unfair and there's a lack of transparency".
She will raise the issue in plenary at the Senedd, and said she wants the Local Government Minister to "get a grip, because it is spiralling out of control".