Ex-University of Wales vice chancellor had £20,000 pay rise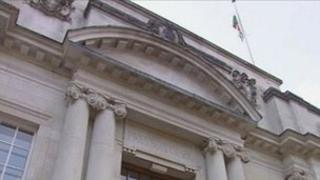 Plaid Cymru has criticised a £20,000 pay rise for the former vice chancellor of the University of Wales (UoW).
Professor Marc Clement's salary rose from £121,082 in 2010-11 to £140,150 the following year.
He was also paid a "discretionary honorarium" of £10,000 in 2010-11, a freedom of information request showed.
Plaid said the decision was "baffling" as it came as the UoW faced controversy over links to partner colleges, leading to it being effectively wound up.
UoW, which is merging with two other institutions, said all payments were agreed by a committee.
The university is effectively being abolished in a merger with Trinity Saint David in Carmarthen and Lampeter, and with Swansea Metropolitan university.
The merger, expected in 2017-18, will take place under the Trinity Saint David charter.
It follows fierce criticism of UoW after a BBC Wales investigation in 2011 into a visa scam at a partner college in London.
An earlier BBC Wales' Week In Week Out investigation in 2010 showed a Malaysian pop star with a bogus doctorate ran a college offering UoW courses.
It led to a damning report from the higher education watchdog, the QAA, which found serious shortcomings in the way UoW approved other colleges to teach and design courses for its degrees.
In April 2011, Prof Clement's annual salary rose by £20,000 compared to the previous year.
In the October of that year, Prof Clement left the post of vice chancellor and was appointed as the UoW's president. Prof Clement left UoW in June 2012 to take up another role at Swansea University.
In a statement UoW said: "Salaries and remunerations for senior staff are stated in the university's financial statements.
"All salaries and honorariums [ex-gratia payments] for senior staff are discussed and agreed by the university's remuneration committee, which is a subcommittee of the University of Wales Council."
'Efficiency'
Plaid assembly member Lindsay Whittle said: "The public will be baffled that the former vice chancellor should have received a rise in his basic salary given the controversy which surrounded the university during his tenure."
Meanwhile, it has emerged that Trinity Saint David is planning to cut jobs in some departments.
It said it hoped to do so through voluntary redundancies and by redeploying staff.
The university was unable to say how many jobs could go, but the departments affected are theology, religious studies and Islamic studies, English and creative writing, business, marketing and communications.
It said it wanted to make "efficiency gains" in areas where student recruitment had been significantly below target and invest in other more popular subjects.