Kennel Club fears criminal charges if dogs bite burglars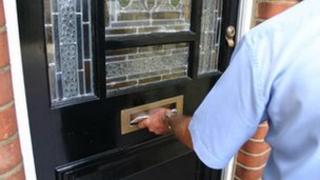 Dog owners could face criminal charges if their animals bite burglars under law changes proposed by the Welsh government, the Kennel Club has warned.
A draft bill would make it an offence to have a dangerously out of control dog in the home.
The dog welfare body says owners should have some protection under the law when dogs try to defend the home.
The Welsh government says it wants to protect people from an increasing number of attacks by dangerous dogs.
The changes are proposed in the draft Control of Dogs (Wales) Bill, which is out to consultation until 1 March.
It would amend the Dangerous Dogs Act which applies to public places, or private places where the dog is not meant to be. Allowing a dog to injure someone is punishable by up to two years in prison.
There is no offence under the act for a dangerous dog on private land where it is allowed to be, including the owner's front garden.
The Welsh government points out the current act does not protect, for example, a postman coming to the door.
The draft bill would widen the scope of the law so it applies anywhere in Wales.
It would also mean a dog is considered "dangerously out of control" if there is "reasonable apprehension" that it will attack a protected animal or pet.
The Kennel Club is a long-established organisation representing dog owners and breeders.
Its communications director Caroline Kisko said: "There should be some kind of protection in place if your dog has a go at somebody who isn't entitled to be where they are."
She said changes were needed to protect postal workers, for example by installing cages on doors to stop dogs biting fingers through the letter box.
"But if we are going to change the law let's change it sensibly," she added.
Muzzle
"We are getting away from reality here in expecting dogs to behave like people and do everything logically and sensibly."
The bill would also create dog control notices (DCN) which local authorities can issue to the owners of unruly dogs. They could be required to attend training sessions or muzzle their dogs in public.
The Welsh government said it welcomes responses to the consultation.
A spokesman said: "The aim of the draft Control of Dogs (Wales) Bill is to encourage responsible dog ownership.
"As part of our road map on improving dog welfare, we want to identify dogs before they become out of control and to enhance their welfare.
"This bill also proposes new legislation to make changes to the Dangerous Dogs Act 1991 to make it an offence for a dog to be dangerously out of control anywhere in Wales, including private property."