Carwyn Jones Christmas message: 'We stood together'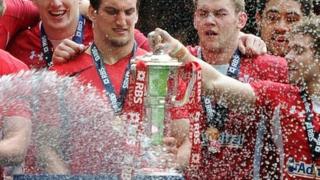 First Minister Carwyn Jones said Wales stood together when it faced adversity in 2012.
In a Christmas message, he contrasted sporting success at the Olympics and Six Nations with the tragedy of April Jones' disappearance and flooding in north Wales.
The past year delivered a "true mix of emotions", he said.
Assembly Conservative leader Andrew RT Davies said Wales had shown a "real sense of community".
Mr Jones said 2012 "has been remarkable and memorable, a true mix of emotions that will remain with us for many years to come".
He hailed Wales' Grand Slam of victories on the rugby field at the Six Nations.
A great year of sport continued at the Olympics and Paralympics over the summer, he said.
But Wales had also experienced tragedy when five-year-old April Jones disappeared from her home in Machynlleth in October.
Recent flooding in north Wales had also "hit us hard", he said.
"The way our communities responded to these tragic events was remarkable.
"People from across the country came together to help, to offer support.
"This sense of solidarity in adversity is part of being Welsh, something perhaps we take for granted, but something which we will forever cherish."
He said such events were a reminder of the work of the emergency services, many of whom would not have a holiday over Christmas.
Christmas was also a time to remember the armed forces, including those serving overseas, Mr Jones added.
Reflecting on the year in politics, he said 2012 had been the year in which the National Assembly for Wales had started using new law-making powers - "the latest step on our constitutional journey".
For the Conservatives, Mr Davies said: "The last 12 months has shown the sense of real community in our country is more alive than ever."
He too praised Welsh Olympians and the Grand Slam-winning rugby team.
But unlike Mr Jones - who said the Welsh government was delivering key policy commitments - Mr Davies said: "Our country deserves more dynamic hands-on and committed efforts to put it back on the map."
He said 2013 was an opportunity for ministers to make a "fresh start".