2011 Census: Theories on the decline in Welsh language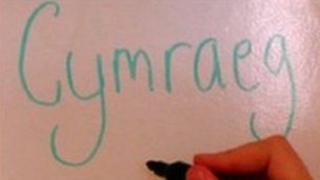 In 2003 the then Welsh government set a target to increase the proportion of Welsh speakers.
Perhaps buoyed by the 2001 Census, which showed the size of the Welsh-speaking population had increased for the first time in 100 years, ministers declared: "Our goal is a bold one".
Data from the 2011 Census, published on Tuesday, showed just how bold they were.
Not only was the target missed, but the proportion of Welsh speakers actually shrank.
Instead of the five-point increase that ministers wanted, the proportion of Welsh speakers fell from 21% in 2001 to 19% last year.
It has prompted questions about why Welsh appears to have gone into reverse in a period when Welsh-medium education has grown and work has been done to cement the official status of the Welsh language.
'Enormous challenge'
In the 10 years since the previous census, legislation has put new duties on public bodies and some private companies to offer bilingual services.
The office of language commissioner has also been created and the first person to do the job, Meri Huws, called the latest findings a "shock and disappointment".
"So much good work has been done in recent years, but it's obvious now we have an enormous challenge as we move forward. We have to prioritise and we have to look at fields where change can happen," she told BBC Radio Cymru.
"I think it would be very dangerous to look for one reason [for decline]. I think the demography of Wales is a lot more complicated than that, and... one of the things we will be doing over the coming weeks is looking and trying to understand the essence of the statistics."
Wales is losing some 2,000-3,000 Welsh speakers a year, according to her office. So why are they not being replaced, particularly if so many children learn Welsh at school?
School playgrounds
Is it possible that part of the story is the tendency for children to revert to English at the end of the school day?
Certainly, First Minister Carwyn Jones has seen it happen in his own home, where he speaks Welsh to his two children and his wife has learned the language.
But although they attend a Welsh-language school, his daughter Seren and son Ruairi speak English to each other. It is a picture common to many families and school playgrounds.
"When you speak to young people as to why this is, they can't give an answer themselves," Mr Jones said.
"There are just occasions when English is the appropriate language and there seem to be more and more occasions when that's correct."
The next challenge for the language, as Mr Jones sees it, is to crack this question of why young Welsh speakers do not speak Welsh.
Language consultant Cefin Campbell said: "In the western counties we see a lot of parents taking their children, 25-30%, to English-medium secondary schools after a Welsh-language primary education.
"Among the reasons given for this is that non-Welsh speaking parents worry that they won't be able to help with home work; that the children's Welsh isn't good enough to continue with education; that English is a more important medium for education and some have done enough Welsh and do not need to continue with it."
In Carmarthenshire 44% of the population said they could speak Welsh in 2011, compared to 50% last time and 55% in 1991.
But Mr Campbell, who set up the first Menter Iaith, in the Gwendraeth Valley, Carmarthenshire, took little comfort from the data for other parts of Wales where many might have hoped to see a growing number of Welsh speakers.
"I'm also disappointed that there has only been a very small increase in Cardiff, considering the number of young people who move there and the increase in Welsh-language education in the city," he said.
'Over-estimated ability'
Could it be that 2001 was a statistical blip? The Office for National Statistics suggested parents might previously have over-estimated the ability of their children to speak Welsh.
For all its "bold" ambitions in 2003, perhaps the Welsh government's targets were based on an over-optimistic picture.
Education Minister Leighton Andrews, who is now in charge of the Welsh government's language policy, published a new strategy in March with the intention of encouraging people to speak Welsh, whatever their level of fluency.
He denied the claims of Cymdeithas yr Iaith Gymraeg (The Welsh Language Society) that the language faces a "crisis".
He said there was obviously a problem in rural Wales and that the Welsh government will work with authorities in Carmarthenshire and Ceredigion to develop the language.
Plaid Cymru AM Simon Thomas, whose mid and west region includes Ceredigion and Carmarthenshire, ties the future of Welsh as a living language to the state of the economy in rural Wales.
"A lot of that stems from the immigration that has occurred, particularly people retiring without children, so there's very few new young people in those areas and that certainly has contributed to a decrease in the percentage," he said.
"And it underlines how important it is, I think, that there's an economic answer to the situation."
Despite successes in education and in changing attitudes towards the Welsh language, he said Welsh-speaking families needed reassurance that they could thrive in west Wales.
"It's obvious a lack of confidence has emerged there in the last 20 years," he said.