Unemployment falls 15,000 in Wales for August-October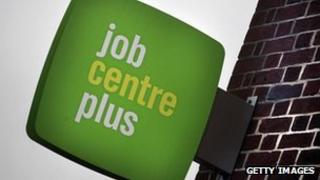 Wales has followed the rest of the UK with a big drop in the number of people out of work.
Unemployment fell by 15,000 in the three months to October, according to the Office for National Statistics (ONS).
The jobless total during the quarter was 117,000 - a rate of 7.9%, down from 9.2% at the same time in 2011.
Separate figures on the value of goods and services showed an improvement in Welsh economic activity during 2011.
Across the UK the number of people out of work fell by 82,000 between August and October to 2.51 million.
The ONS uses an internationally-recognised survey to produce an estimate of the UK's workforce every month.
The latest figures say that in the three months to October 638,000 people in Wales were in work.
Male unemployment was down 10,000 to 63,000 (8%) and female unemployment was down 4,000 to 54,000 (7.8%).
The number of jobseeker's allowance claimants fell by 1,000 to 79,400 in November.
Meanwhile, Wales' gross value added (GVA) - which measures the value of goods and services - rose to £47.3bn in 2011, up 2.2% on 2010.
However, GVA per head in Wales remained the lowest of the devolved nations and English regions at 75.2% of the UK average.
The UK government said it showed the economy was on the right track.
Welsh Secretary David Jones said: "The GVA figures released today have shown that, in Wales we are starting to narrow the gap in relation to the UK average and that our efforts to rebalance the UK economy are bearing fruit.
"However, while these figures are moving in the right direction, there is still much work to do."
He said measures announced in the Chancellor's Autumn Statement, including an extra £227m for the Welsh government to spend on infrastructure, will help the economy along the road to recovery.
"Now is the time for delivery and results and the people of Wales will want to see less talking and more action, to ensure that Wales is ahead of the game," he added.