OECD asked by Leighton Andrews for Wales education review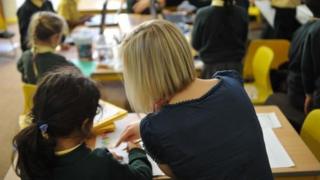 The international body the Organisation for Economic Co-operation and Development (OECD) has been asked to review Wales' education system.
Education Minister Leighton Andrews has asked for it to look for "further value" that can be added to Welsh government reforms.
Mr Andrews said that "if we're to be amongst the best we need to learn from the best".
The OECD compares educational outcomes in dozens of countries.
Its review is expected to report in March 2014.
The Welsh government said it would offer insights from international experience and good practice with "expert analysis of key aspects of education policy in Wales".
Mr Andrews said: "I have made a clear commitment to raising standards and performance in schools across Wales.
"To achieve this we must improve levels of literacy and numeracy and reduce the impact of deprivation on educational attainment.
"I've already put in place many of the policies needed to drive improvement but it's really important that we understand where we stand globally if we really want to deliver the best outcomes for children and young people in Wales."
The OECD Programme for International Student Assessment or Pisa tests examines the performance of 15-year-old pupils in mathematics, science, and reading.
The OECD describes its mission as to "promote policies that will improve the economic and social well-being of people around the world" and "provides a forum in which governments can work together to share experiences and seek solutions to common problems".